The 2017 Tohoku University International Festival is coming soon!
Show your talents on stage, cook your country's most delicious food, or just hang out with the thousands of other festival-goers at the Interactive Corner.
Even if you don't have time to be involved in the planning, you can still get involved by being a festival volunteer on the day.
Click on the link for all the ways you can be part of the Tohoku region's biggest and most exciting international event. Applications are open until March 15.
Date: Sunday, May 14, 2017
Time: 10:00am ~ 4:00pm
Venue: Kawauchi Hagi Hall, Kawauchi Campus
Registration: https://goo.gl/WorXWu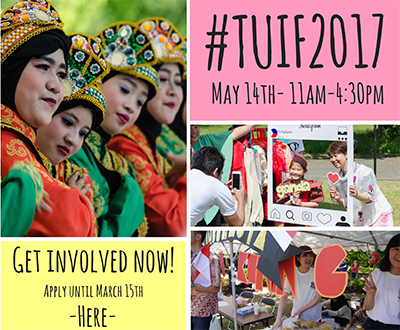 Contact:
Tohoku University Foreign Students Association
Email: tufsacontact@gmail.com