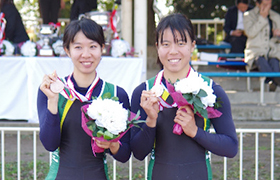 Tohoku University's Rowing Club has come in third in the Women's Double Skulls event at the Japan Rowing Association Regatta.
Fourth year Arts & Letters student Miku Inoue and second year Economics student Kana Nishimura, paddled to victory at the national rowing championships held in Saitama prefecture, from November 10~13.
Several other members of our Rowing Club also won prizes, with results shown in the table below.
The regatta will be broadcast on NHK's ETV on Saturday November 19, from 3~4pm.
Event & Rank
Competitors
Women's Double Skulls
3rd
Miku Inoue (4th year Arts & Letters)
Kana Nishimura (2nd year Economics)
Men's Coxless Pair
4th
Kosuke Ono (4th year Engineering student)
Takahiro Matsubayashi (4th year Engineering)
Men's Coxless Pair
6th
Takumi Horiike (1st year Engineering)
Hiroya Uetake (2nd year Engineering)
Akiya Taga (3rd year Economics)
Men's Coxed Four
6th
Taiga Naoe (3rd year Art & Letters)
Ryosuke Kita (3rd year Economics)
Kunpei Matsuda (3rd year Science)
Yuta Kabe (2nd year Law)
Yusuke Ishii (2nd year Agriculture)
Contact:
Education and Student Support Department
Tel: +81-22-795-3983