Hong Kong Polytechnic University Vice President for Student and Global Affairs Angelina Yuen met with Executive Vice President Toshiya Ueki during a visit to Tohoku University on October 26.
They discussed student and researcher exchange, as well as academic exchanges in the fields of Disaster Science and Engineering. Tohoku University's Associate Executive Vice President for International Affairs Masahiro Yamaguchi, the Dean of the School of Engineering Hirotsugu Takizawa and Professor Tetsuo Shoji of the New Industry Creation Hatchery Center were also at the meeting.
VP Yuen ended her visit with a tour of Lu Xun's lecture hall and the University Archives.
Hong Kong Polytechnic University is a public university founded in 1937. It has more students than any other university in Hong Kong.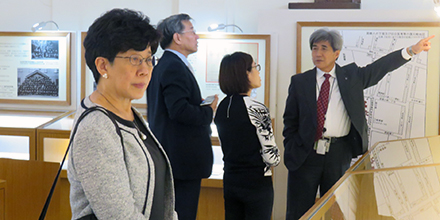 Contact:
International Exchange Division
Tel: +81 22 217-4844