On March 16, while in Sendai to attend the Third UN World Conference on Disaster Risk Reduction, the Honorable Ratu Inoke Kubuabola, Minister for Foreign Affairs, Republic of Fiji, and the Ambassador of the Republic of Fiji, His Excellency Mr. Isikeli .U. Mataitoga, visited President Satomi and Executive Vice President Ueki at Tohoku University.
Also present at the meeting was the Director of the Graduate School of Environmental
Studies, Professor Toshiaki Yoshioka, and two of his students from Fiji.
The parties discussed the possibility of academic exchanges between Japanese and Fijian universities, and expressed optimism for future collaborations.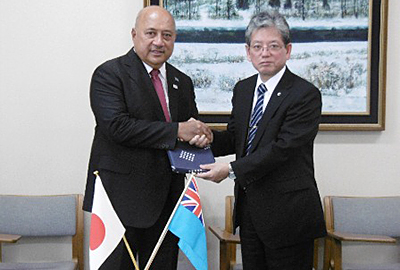 Minister Kubuaola and President Satomi

Group photo
Contact:
International Exchange Division
Tel: +81-22-217-4844