Tohoku University will host its 5th APRU Multi-Hazards Summer School from July 18-21 at the International Research Institute of Disaster Science (IRIDeS).
This year's summer school will focus on "effective investment in disaster risk reduction for a resilient society."
Students and faculty of Tohoku University interested in disaster risk reduction (DRR) and management are welcome to join this event.
Date: July 18 ~21
Venue: The International Research Institute of Disaster Science (IRIDeS) (Map)
To register to attend, send an email to: application_apruss@irides.tohoku.ac.jp
Program: Lectures related to the Great East Japan Earthquake and Tsunami
July 18:
Lectures related to the Great East Japan Earthquake and Tsunami
July 19:
Lectures by representatives from local government, NGO and academia on the roles they play in Disaster Risk Reduction (DRR). Lectures will be followed by group work
July 20:
Presentations
- Tohoku University
- University of Washington, U.S.A.
- Chulalongkorn University, Thailand
July 21:

Lectures by faculty members from UC Davis and National Taiwan University. Lectures will be followed by group work
Program objectives:
To understand the international approach to Disaster Risk Reduction strategies
To learn from the experience and recovery process following the 2011 Great East Japan Earthquake and Tsunami
To learn from the various DRR projects that have been implemented in the Tohoku region and overseas
To discuss the role of science and technology as well as universities in the implementation of the Sendai Framework for Disaster Risk Reduction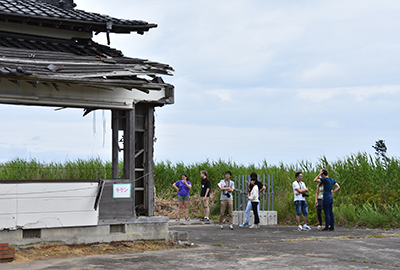 News in Japanese
Contact:
Takako Izumi
International Research Institute of Disaster Science (IRIDeS), Tohoku University
Email: application_apruss@irides.tohoku.ac.jp