It's a tradition that conjures up the nostalgia of early school days; one that promotes teamwork, coordination and healthy competition. Indeed, nothing defines or showcases the vigour and ambitions of Japanese youth as much as a good, old-fashioned sports day.
At Tohoku University, the School of Engineering's annual sports day is one of the most anticipated events on the student calendar. The fact that this is one of the few university-level sports days left in Japan, is a constant source of pride among staff and students.
This year, some 2 dozen departments - comprising both graduate and undergraduate programmes - competed in familiar events such as the 3-legged race, the centipede "mukade" race and the mixed relays, which also featured professors running alongside the students.
"This is for students to get together, to refresh themselves so that they have more energy for their research," said Metallurgy Professor Nagasaka Tetsuya. "Of course, good teamwork is also an on-going important lesson here."
For the School of Engineering's many foreign students, the event was a chance to experience a popular Japanese tradition.
"It's pretty nice to see members of the different departments all together. Usually we don't see each other, so this is great," said Eden Attobra, a 2nd year Electrical Engineering student, who's originally from France.
"At my other university, we had running. But this is a lot more fun! And it breaks the routine of studying!" said Talmoudi Sana, a 1st year Nanomechanics student from Tunisia.
The climax of the day was the tug of war. The final had the Quantum Science Department going pull-for-pull, with the Metallurgy Department, with the Metallurgy team eventually emerging victors.
But the rivalry didn't end there. Both departments found themselves on equal points for second place at the end of the day and had to decide their positions using rock-scissors-paper. Once again, Metallurgy came out tops.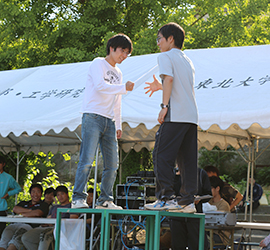 But the day's overall winner - and the 2015 King of the Mountain - was the defending champions, the Department of Applied Chemistry. Metallurgy, Quantum Science, Environmental Studies and Nanomechanics made up the rest of the Top 5.
Results :

1st place, Team of Applied Chemistry, 65 points
2nd place, Team of Metallurgy, 40 points
3rd place, Team of Quantum Science, 40 points
4th place, Team of Environmental Studies, 35 points
5th place, Team of Nanomechanics, 31 points
Contact:
For enquiries about the School of Engineering:
Division of International Education and Exchange
School of Engineering
Tel & Fax: +81-22-795-3452
Email: office

ied.eng.tohoku.ac.jp
For media enquiries:
Tohoku University International PR Section
Tel: +81-22-217-4816
Fax: +81-22-217-4818
Email: public_relations

gpr.tohoku.ac.jp