To commemorate the establishment of the Tohoku University Alumni, Thailand (TUAT), an inaugural seminar was held in Bangkok on January 20, with the theme "Smart Technology 4.0 for Natural Disaster Awareness."
Guests from Tohoku University included President Susumu Satomi, Executive Vice President Toshiya Ueki, Associate Executive Vice President Masahiro Yamaguchi and Professor Kazuko Suematsu, who is deputy director of the Global Learning Center at the Institute for Excellence in Higher Education, and who serves as advisor on matters relating to TUAT.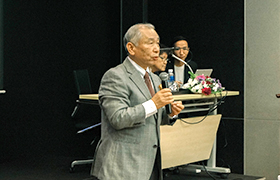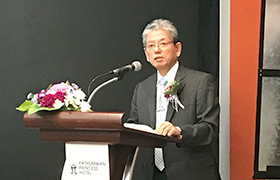 The guest speaker was Professor Emeritus Kazuo Katoh of the Graduate School of Agriculture. Other keynote speakers included Professor So Kazama of the Graduate School of Engineering and Associate Professor Anawat Suppasri of the International Research Institute of Disaster Science.
The event attracted some 50 Tohoku University alumni based in Thailand.
In his opening remarks, Satomi said that he was proud of their success. "I am very happy to see alumni who have taken advantage of what they studied at Tohoku University and who have cultivated interpersonal connections. We always look forward to the activities of our alumni, and hope that the university's education and research achievements will make them even more proud of their alma mater."
Dr. Ruttikorn Varakulsiripunth, dean of the Faculty of Information Technology at the Thai-Nichi Institute of Technology, is the chairman of TUAT. "The number of Tohoku University alumni in Thailand is increasing year by year, and they are nostalgic for their experiences in Japan - and especially in Sendai - so there have been many calls to open an avenue of communication with Tohoku University."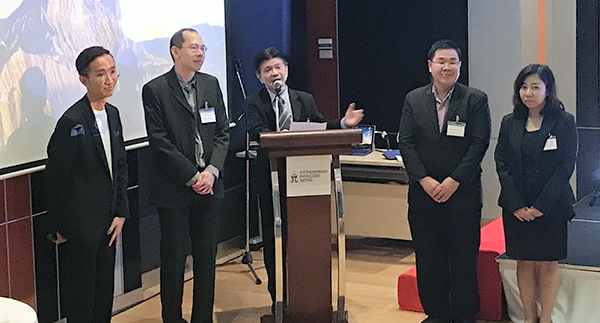 The seminar started with a special lecture from Katoh and his co-researcher, TUAT member Professor Chollada Buranakarl of Chulalongkorn University. They introduced their collaborative research in applied animal science, which received support from the Thai royal family.
This was followed by a report from Kazama on floods, sediment-related risks, and river-bank and coastal erosion in Thailand. Suppasri spoke about tsunamis, and research on water management was introduced by Rangsit University Associate Professor and TUAT member Serre Supratid.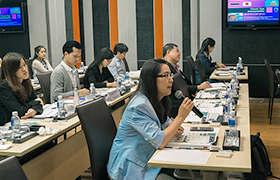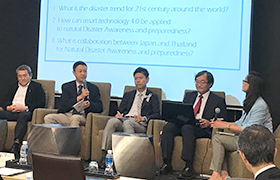 There was great interest in the adaptation of rapidly accelerating technology for disaster prevention, and the participants were keen to take part in a question and answer session.
The seminar ended with a panel discussion led by a TUAT board member. The panel, which included Kazama, Suppasri and Supratid, looked in depth at ICT utilization in the event of a natural disaster, as well as an historical perspective on its use. Naomichi Numata, director of the National Institute of Information and Communications Technology's Asia Center, also joined as a guest panelist.
Numata had engaged in the research and development of disaster-resistant ICT as a specially appointed professor at Tohoku University's Research Institute for Electrical Communication between June 2013 and July 2014. Numata recalled the high level of research and development he witnessed during his time at Tohoku University and noted how important it is for the university to continue to work with its alumni network.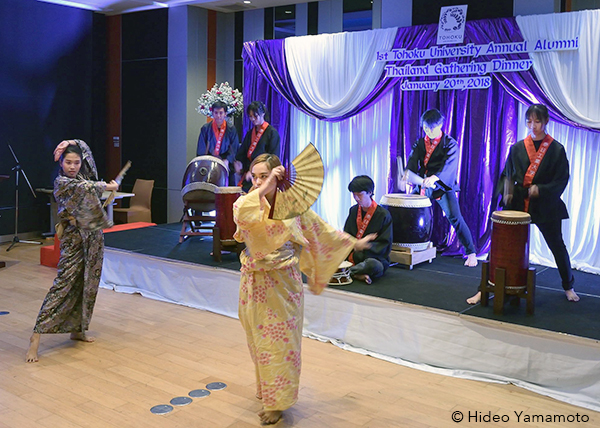 Later that evening, a social gathering was held with performances of Japanese taiko drums and Yosakoi dancing by students from the Thai-Nichi Institute of Technology.
Suematsu introduced the latest goings-on at Tohoku University by way of a quiz, which was won by former JYPE student Sirasith Suchartlikitwongse.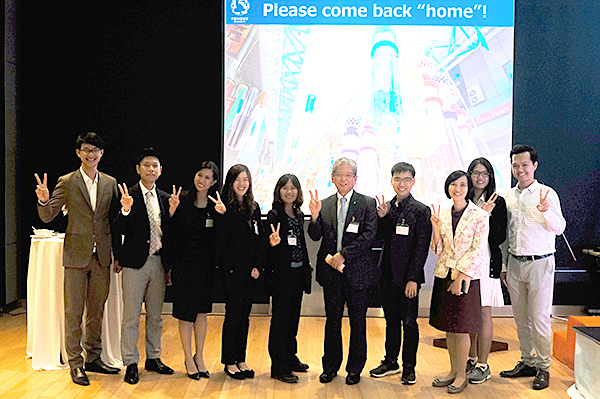 Suchartlikitwongse had studied under Professor Anzai at the Graduate School of Engineering's Department of Metallurgy from October 2013 to September 2014. Now working as a researcher in metallurgy in Thailand, he says he keeps in touch with friends in Japan and follows the news of Tohoku University and the Japanese academic world. He added that the time that he spent in Sendai after the earthquake, with so much dramatic rebuilding, was a source of encouragement and inspiration.
Tohoku University Alumni, Thailand is the fifth such association established following those in Korea, China, Taiwan and Indonesia.
Contact:
Tohoku University International Exchange Division
Tel: +81 22 217-4844
Email: kokusai-r@grp.tohoku.ac.jp