After months of preparation to make decorations for Sendai's iconic Tanabata festival, student's on Tohoku University's International Program in Liberal Arts (IPLA) can bask in the knowledge that their hard work paid off. The lavish looking Tanabata ornaments, designed and put together by five local and thirty-four international students, won the bronze award at this year's festival.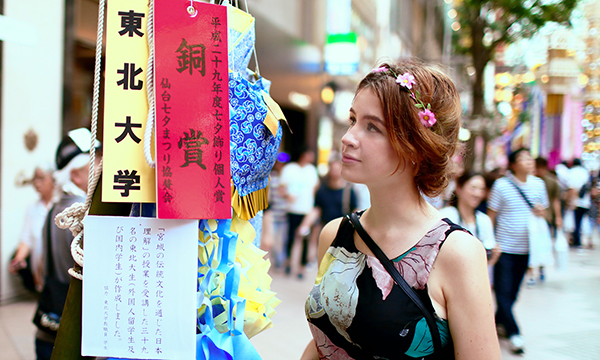 As part of a class project, students learned about Sendai's colourful festival and its history that dates back to the city's first samurai lord, Date Masamune. The theme for this year's festival was the 450th anniversary of Lord Date's birth, so students made a field trip to Aoba castle to hear the story of this famous samurai
At a time when much of Japan opposed relations with the West, in 1613, Lord Date sent a diplomatic envoy to Rome to meet the Pope. In keeping with this history, students who designed the winning decorations based their idea on "connecting Japan with the world."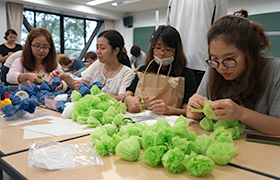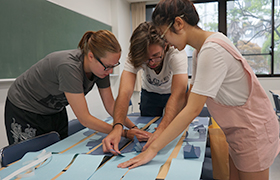 For the project, the students were divided into six groups, put together proposals for their designs and then voted to choose their favourite. The decorations took about eight weeks to complete and together they made over 4,000 paper flowers by hand. Each blue ball contained 500 flowers and the design also incorporated paper origami cranes.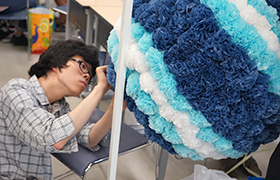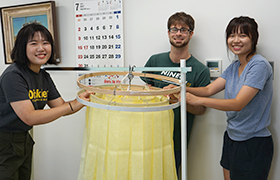 "The IPLA curriculum is really widespread. We have international business classes, or for example development economics, but then we also have opportunities like this," said Samantha Kemmler on exchange from the University of Paderborn in Germany.
Niklas Abel, also from Germany, chose to come to Tohoku University after meeting students from Japan on exchange back home. "I think the course is a great way to learn about a Japanese traditional festival. It's first hand experience," he said. "We are not visitors, we are participating, so for me it's a very good experience."
Because the design this year was particularly complicated, it took longer than expected and students worked hard up until the last minute.
"We put so much energy, patience and time into making the design, cranes, flowers and flags, but it was always a pleasure to work together," said Camille Chabroud from Grenoble. "We were in total harmony and with our design we wanted to show how important the city of Sendai is to us. When we learned that we had won bronze, it was unexpected, but we felt very proud.
The student's decorations hung on Ichibancho outside Fujisaki's department store during the festival from August 6-8, and have since been moved to Tohoku University's Main Library to go on display until the end of August.
Contact:
Yuka Sakamoto
Global Learning Center
Email: yuka.sakamoto.a3@tohoku.ac.jp