A mock disaster drill was held at Tohoku University Hospital on December 19, to test a newly developed internal emergency information system. Patients were then transported across medical centers using information obtained from the data system. The drill is to better prepare the hospital in the event that an actual disaster occurs.
In previous drills Tohoku University Hospital have used a regional Emergency Medical Information System (EMIS) created following the Kobe earthquake. The system gathers information from medical centers throughout the region as to their operational status, whether any damage has occurred to facilities, and information on DMAT or Disaster Medical Assistance Team activity. DMAT are professional and para-professional medical personnel organized to provide rapid-response medical care in the case of an emergency.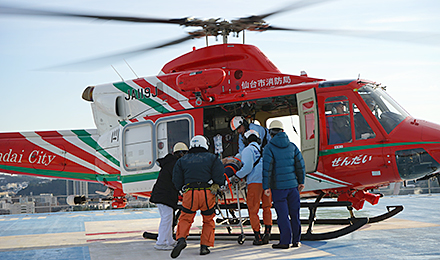 This time, in addition to the existing EMIS system, the new system developed independently by Tohoku University Hospital was used. The system called 'ACSIST', allows individual departments within the hospital to report on their circumstances so that all the information can be shared in one place.
The scenario set for the drill was an earthquake measuring an upper 6 on the Japanese Meteorological Agency seismic scale, with the epi center of the earthquake originating in Sendai. There were more than 300 people in attendance, including doctors, dentists, nurses, medical specialists and students.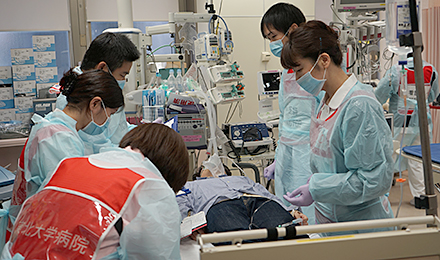 Prof. Tadashi Ishii, who heads the Miyagi Community Health Promotion Division commented on the result, "The drill went well, but it became clear that we still need to improve on internal communications. Tohoku University Hospital is the hub of local healthcare not only in Miyagi prefecture but also in the Tohoku region. Cooperation with central hospitals in other areas is vital."
Tohoku University Hospital plans to conduct the drill again next year.