In response to the spread of the new coronavirus infection, Tohoku University Hospital will implement the following control measures from March 5 (Thursday):
Medical treatment at the hospital will be restricted
Only people with an appointment or who have a referral letter will be given treatment.
Those returning from abroad, regardless of the region, will not be able to see a doctor at the hospital for 14 days.
Outpatients to use separate entrances:
Outpatients without fever (and their companion) should use the Front Entrance (on Kita-yobancho, see A on map) or the North Entrance (on Kita-rokubancho, B on map).
Outpatients with a fever of 37.5 ° C or more, must use the North Entrance and ask for a medical consultation.
People who have no fever, no appointment or no referral letter, will not be allowed into the hospital. This will be strictly enforced.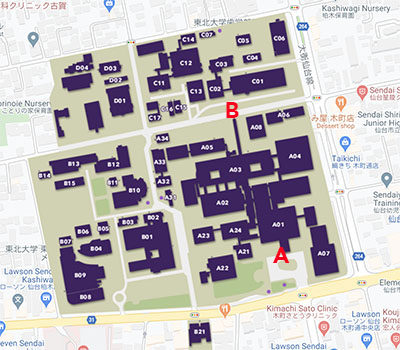 Opening hours
Front Entrance: Weekdays 8 a.m. - 7:30 p.m.
North Entrance: Weekdays 8 a.m. - 5 p.m.
Entrances are locked at all other times on weekdays and all day on weekends and holidays.
Even during working hours, only people with permission will be allowed into the hospital.
Restrictions on visiting hospitalized patients
All visits to inpatients are prohibited from February 29 until further notice.
Tohoku University Hospital is aware of the inconvenience that these new measures might cause, and asks for understanding and cooperation.
Tohoku University remains committed to keeping all students, staff and the community safe during these extraordinary times. Regular updates and new information can be found on the university's English and Japanese websites.

News in Japanese
Contact:
Tohoku University International PR Section
Tel: +81-22-217-4816
Fax: +81-22-217-4818
Email: public_relations

grp.tohoku.ac.jp