The Association of Pacific Rim Universities (APRU) held its 14th Senior Staff Meeting from September 7-9 on Cebu Island in the Philippines. Tohoku University's Executive Vice President Toshiya Ueki attended the event, which this year focused on "the Internationalization of Higher Education in the Asia-Pacific."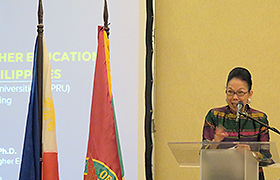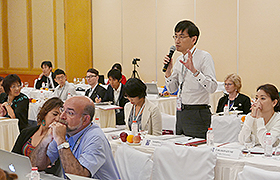 Dr. Patricia Licuanan, the Chair of the Commission on Higher Education of the Philippines, kicked off the three-day schedule of meetings and discussions by speaking about the recent education reforms in her country.
APRU was founded in 1997 to foster cooperation in education and research. Member universities address issues of major importance to the Pacific Rim community, such as economic and human resource development, science and technology, education and environmental protection.
Tohoku University has been a member since 2008, and Tohoku University President Susumu Satomi currently serves as a steering committee member.
The next Senior Staff Meeting will be held at the Monterrey Institute of Technology and Higher Education in Mexico in September 2017.
Contact:
International Exchange Division
Tel: +81-22-217-5578