Tohoku University hosted a delegation from the University of Bordeaux on September 13. At a meeting between Associate Executive Vice President for International Affairs Masahiro Yamaguchi and his French counterpart Vincent Dousset, both institutions reaffirmed their commitment to promoting academic exchanges.
Tohoku University had signed an academic exchange agreement with the University of Bordeaux 1 in 2005, but a few changes had to be discussed in the wake of the French university's organizational restructuring in 2014. In its current form, the university is a reorganization and fusion of several universities in the Bordeaux area.
The group - which included Dr. Reiko Oda and Associate Professor Kentaro Mori from the University of Bordeaux and Professor Yoshitaka Kasukabe and Professor Takehiko Wada from Tohoku University - discussed details of a new academic exchange agreement, as well as one for graduate level students.
The day before the meeting, the French delegation toured Tohoku University's medical research facilities, the university hospital and the Tohoku University Medical Megabank. They also had dinner with Executive Vice President for General Affairs and International Relations Toshiya Ueki.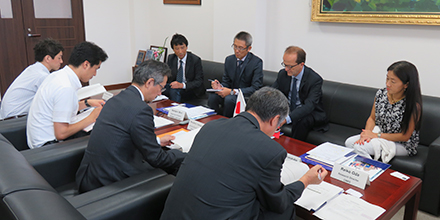 Contact:
International Exchange Division
Tel: +81-22-217-4844