Tohoku University and China's Lanzhou University have renewed their University Level Academic Exchange Agreement, a deal which was first signed in 2007. Over the past 10 years, there have been exchanges in a number of fields between the two institutions, most notably in engineering and materials sciences. Last year alone, three Tohoku University professors were appointed visiting professors at Lanzhou University.
Lanzhou University President Wang Cheng brought a small delegation to Sendai on May 19 for the signing ceremony. Among them was Professor Wang Yuhua, an alumnus of Tohoku University's Graduate School of Engineering who now serves as director of Lanzhou University's International Office.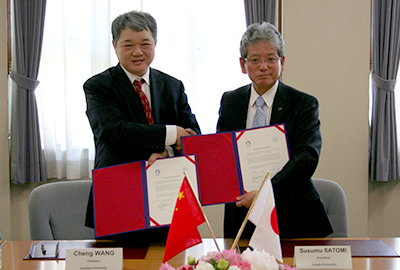 At the signing ceremony, Tohoku University President Susumu Satomi said, "I am very pleased to see that an alumnus is playing such a fine role in fostering international exchange with our university. I hope that more talented alumni will, in the future, act as intermediaries between our two universities, and also take the lead in promoting even more scholarship in Japan and China."
President Wang, noting that both universities share similar research interests, said he hopes "both universities will deepen their cooperative relationships and continue to engage in student and research exchange in the future."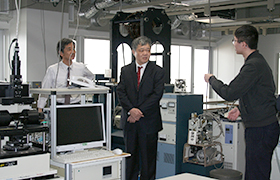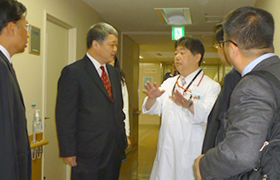 In addition to visiting the wards and surgery department of Tohoku University Hospital, the Chinese delegation also visited the Graduate School of Engineering, the Graduate School of Life Sciences, the Graduate School of Biomedical Engineering and the Institute of Multidisciplinary Research for Advanced Materials (IMRAM).
Lanzhou University is one of China's leading universities and is located in Gansu Province, in the north-west of the country. It was established as Gansu Law and Politics School in 1909, and has since developed into a leading center for education in the region. It has long excelled in fields such as chemistry, physics, biology, mathematics and geography, but has recently turned its focus towards research with strong social impact. These include Central Asian studies, semi-arid climate change and arid agriculture, and research into the ancient city of Dunhuang and its artifacts.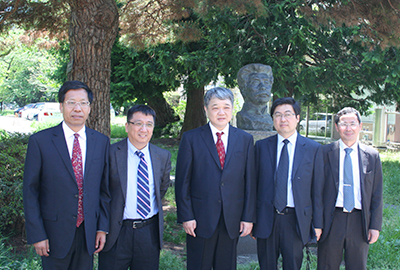 Contact:
International Exchange Division
Tel: +81 22 217-5578
Email: kokusai-k@grp.tohoku.ac.jp