Tohoku University has renewed a university-level Academic Exchange Agreement with China University of Geosciences (Wuhan). The new agreement was signed on February 7 during a visit to Sendai by a delegation from CUGW, led by Professor Xiang Hao, Secretary of the Party Committee and Chairman of the University Council.
The initial agreement, concluded in 2012, sought to promote close research exchanges between the two institutions, primarily in the fields of Materials Science and Earth Science. The updated agreement is expected to build on that success and further broaden the scope of future exchanges.
At the signing ceremony, Tohoku University President Susumu Satomi spoke of his hope that the renewed agreement would "raise the level of global academia and help nurture individuals who can be a bridge not just between the two universities, but also between Japan and China."
CUGW professor Gang He, who had received his doctorate degree from Tohoku University, was also at the ceremony. President Satomi acknowledged his participation in several successful Materials Science exchanges between the universities over the years. "I am very happy to see examples like this, where alumni of the university continue to contribute to our international exchanges after graduation."
Following the ceremony, the group did a tour of Katahira Campus. They viewed the Lu Xun Memorial Exhibit at the University Archives, and spent time in the Lu Xun Lecture Hall, where they heard anecdotes about the famous Chinese scholar's time as a student in Sendai.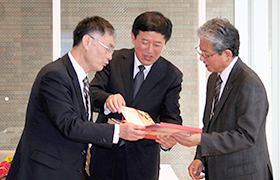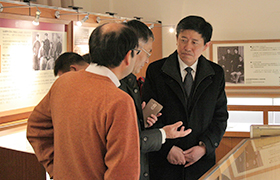 The China University of Geosciences was formed in 1952 and is made up of two campuses - one in Beijing (CUGB) and the other in Wuhan (CUGW). It was originally known as the Beijing Institute of Geology, and was formed through the merger of the geology departments of five other universities. Among its prominent alumni are former Chinese Premier Wen Jiabao and former Beijing mayor Wang Anshun.
Last year, the university's mountaineering team completed the Explorers Grand Slam by reaching both the North and South Pole, and climbing the Seven Summits.
Contact:
International Exchange Division, Tohoku University
Email: kokusai-k@grp.tohoku.ac.jp