As part of the 50th anniversary celebration of sisterhood between the two cities, a delegation from Rennes visited Sendai on November 13 and called on Tohoku University President Susumu Satomi.
The visiting delegation of six was headed by the Deputy Mayor of Rennes, Jocelyne Bougeard, and included the respective vice presidents of Université de Rennes 1 and Université Rennes 2, Pierre Van de Weghe and Lesley Lelourec.
At the meeting, which was also attended by Executive Vice President Toshiya Ueki and several faculty members, President Satomi expressed his gratitude for the welcome received by Tohoku University faculty and staff who had travelled to Rennes for the first leg of the celebrations in October.
He reiterated his appreciation for the support from France in general, and Rennes in particular, during the Great East Japan Earthquake in 2011. The French had provided technical support in the wake of the incidents at Japan's nuclear power plants.
In response, Deputy Mayor Bougeard told of the great interest the people of Rennes have in Sendai, and indicated the French city's continued support for academic exchanges between Tohoku University and the universities in Rennes.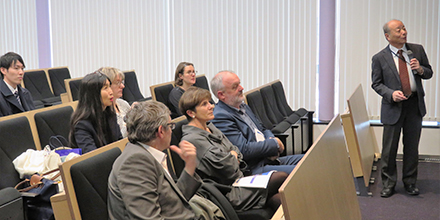 Following the meeting, the delegation from Rennes did a tour of the university campuses, starting at the Tohoku Forum for Creativity, where prominent researchers from around the world regularly hold workshops to discuss their work.
The group then split into three, with Deputy Mayor Bougeard and three other members of the group visiting the newly constructed Aobayama Commons where they viewed the wide range of facilities available in the Tohoku University Agricultural Library.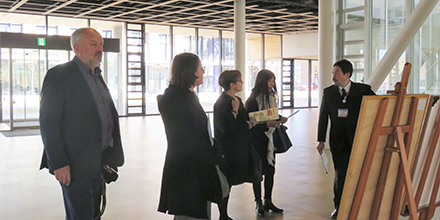 Vice President Van de Weghe visited the Graduate School of Science, guided by Professor Emeritus Shun-ichiro Tanaka of the New Industry Creation Hatchery Center. They met with Professor Shinichiro Iwai and Professor Sumio Ishihara, who updated him on the IM-LED project, a Franco-Japanese collaborative laboratory.
Vice President Lelourec visited the Graduate School of Educational Informatics, where its dean, Shinichi Watabe, demonstrated how the Internet School of Tohoku University (ISTU) records and distributes content. The demand for distance learning is increasing in France, and so there is considerable interest among leading universities, such as those in Rennes, to implement similar technology.
Contact:
International Exchange Division
Tel: +81 22 217-4844
Email: kokusai-r@grp.tohoku.ac.jp