Tohoku University President Susumu Satomi and his counterpart at the University of Montana Royce C. Engstrom have signed an academic exchange agreement, committing to further academic and research collaborations. The ceremony was held at the university football stadium in Missoula, Montana on September 22.
At a breakfast meeting before the ceremony, President Satomi and officials from both universities discussed research and student exchanges as well as collaborations with industry, especially in the fields of data science and biomedicine. They also raised the possibility of starting a leadership training course together.
The University of Montana was founded in 1893, and is well-known for its journalism programme, with several of its alumni going on to win the Pulitzer Prize.
Mike Mansfield, a graduate of the university, was a career politician and diplomat who served as ambassador of the United States to Japan from 1977 to 1989. In his honor, the university created a public policy research organization called the Maureen and Mike Mansfield Center, to promote projects between the U.S. and Asia. Tohoku University jointly hosted a symposium with the center in Sendai earlier this year.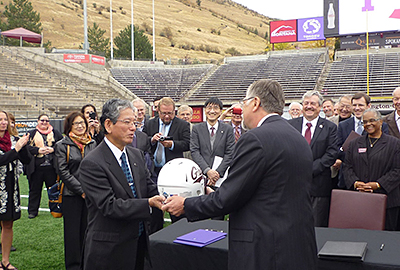 President Satomi receives a Montana Grizzlies helmet
Contact:
International Exchange Division
Tel: +81-22-217-4844