On February 19, a delegation from Novosibirsk State University (NSU), led by Andrey Zuev, Director of the NSU Humanitarian Institute, visited Tohoku University, first paying a courtesy call on Executive Vice President Toshiya Ueki.
Tohoku University maintains a university-level academic exchange agreement with NSU, and EVP Ueki remarked that the number of academic exchanges between the two are continually increasing. His expectation is that both universities will continue to engage in research exchange activities in a growing variety of fields.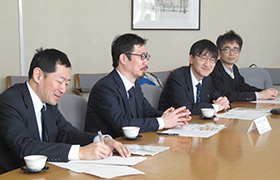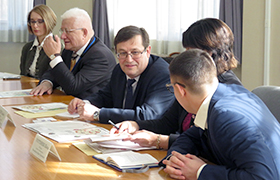 The delegation from NSU likewise said it is looking forward to further deepening the existing collaborative relationship and working together on joint projects at postgraduate level.
Professor Hiroki Takakura, Director of the Center for Northeast Asian Studies, was also at the meeting. He noted that despite having begun with just Japanese Studies, the areas of common interest now include Asian Studies, and that there has recently been further development in collaborative research in the humanities and sociology fields.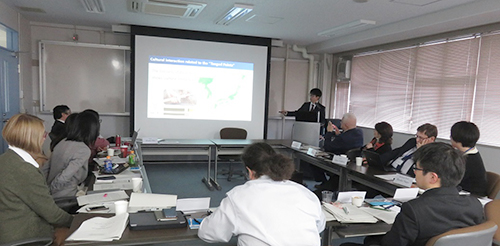 The next day, the Office of Japan-Russia Relations, the Graduate School of Arts and Letters, the Graduate School of International Cultural Studies, the Center for Northeast Asian Studies, and the NSU Humanitarian Institute co-hosted a Russia-Japan Workshop entitled "Asian Studies at NSU and TU Ⅲ". Students who participated in the workshop had the opportunity to broaden their academic perspective through presentations and discussions held entirely in English.
This partnership began in 2014, when Tohoku University committed to the Creation of Innovative Leaders for New Japan-Russia Relations, funded by the national Inter-University Exchange Project. Its aim is to develop and implement cooperative education programs with Russian universities, and Novosibirsk State University is just one of Tohoku University's partners in that project.
Contact:
International Exchange Division
Tel: +81 22 217-4844
Email: kokusai-r@grp.tohoku.ac.jp