Tohoku University and Dalian University of Technology (DUT) co-hosted an online event to commemorate the 25th anniversary of their relationship on May 23, 2022.
In 1996, the late Professor Emeritus Sato Noriyoshi from Tohoku University's Graduate School of Engineering signed an agreement on scientific and technological cooperation with Professor Gu Biao from DUT's Electromagnetic Engineering Department. Since then, the two universities have deepened interaction. In 2007, they concluded an academic exchange agreement that boosted faculty and student exchanges. This included a "Tohoku University Day" held at DUT in 2011, and Tohoku University sending students to DUT in 2019 under a "Faculty Led Program."
At the opening ceremony, Tohoku University President Hideo Ohno and DUT's Secretary of the Party Committee Xiang Changle made remarks on behalf of their respective universities. They expressed their gratitude for past interactions and their hope for continued cooperation and developments.
In addition, Consul General Sun Dagang of the Consulate General of the People's Republic of China in Niigata, Director Todoriki Ken of the Consular Office of Japan in Dalian, Consulate General of Japan in Shenyang, and Cheng Yingjun, Director of the Dalian Foreign Affairs Office attended as honored guests. They all congratulated the two universities' longstanding mutual exchanges.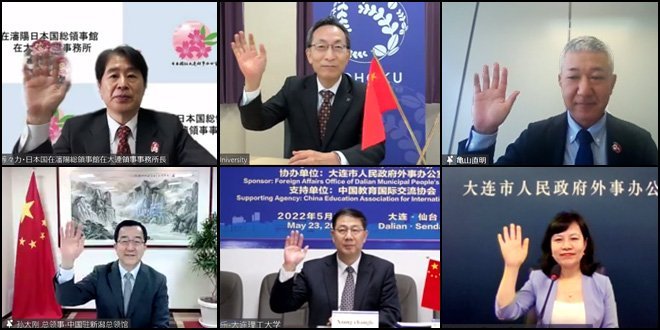 The ceremony also featured a signing ceremony to mark the renewal of the academic exchange agreement.
After the ceremony, the two universities introduced their student exchange programs and held online academic symposia covering materials science, chemistry, and mechanical engineering. These three fields represent areas of active research collaboration.

News in Japanese
Contact:
Global Engagement Division,
Tel: +81-22-217-4844
Email: kokusai-r

grp.tohoku.ac.jp