Tohoku University and the University of Lorraine held a joint workshop from September 17 to 20 (some workshops were also held on September 23 and 24.) Approximately 40 faculty and staff members from Tohoku University attended, including President Hideo Ohno and Executive Vice President Toshiya Ueki.
Respective presidents of both universities were keen to hold the workshop. They sought to build on past exchanges to deepen relations between the two parties and to begin new collaborative efforts. The two universities have enjoyed many years of research exchanges in spintronics and mathematics. Accordingly, academic workshops were held in spintronics and in mathematics; in combustion studies, in which exchanges have recently begun; and in health technology as a field for new collaboration. In addition, faculty and administrative staff from both sides who are involved in student exchange and in international exchange held a workshop.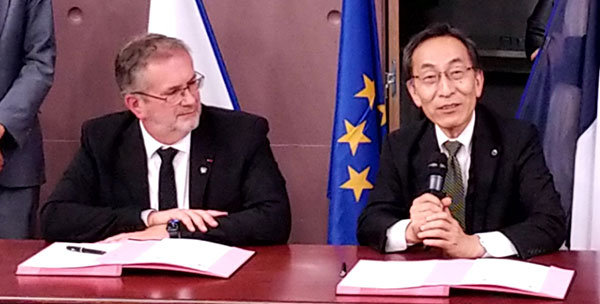 Hiroki Arisawa (Master of Science, 2nd year), who participated in the spintronics workshop, said, "After my oral presentation, an overseas researcher told me, 'I'd like you to provide me with detailed results from your research as our fields overlap.' The experience made me realize how international conferences help to expand the overseas researcher community. I also had the opportunity to ask questions to the overseas professors during lunchtime, and all answered earnestly and without reservation. The surprise I felt from realizing the closeness between professors and students was greater than my joy of hearing the solutions to my questions. Throughout the workshop, the impression I had was that all of the professors were open to discussion regardless of the content or the professor's status. At the next international conference I attend, I would like to overcome any shyness and actively discuss and ask questions."
Noriki Yamaya (Master of Medical Sciences, 2nd year), who participated in the workshop on health technology, said, "Although I was very nervous about making a presentation abroad for the first time, I thoroughly enjoyed talking about my research and discussing matters with overseas researchers. The presentation themes at the University of Lorraine were very stimulating, such as the fusion of psychological methods with biosignals such as brain waves and motion sensors, applications of virtual reality and machine learning, and clinical research on actual patients. I also took great interest in the presenters' introduction to their background and their explanations on the importance of their research themes. Other researchers asked me how I was carrying out my research and how it is connected to society. Through this experience, I discovered issues about my own research, and at the same time, I learned important points regarding how I should explain it".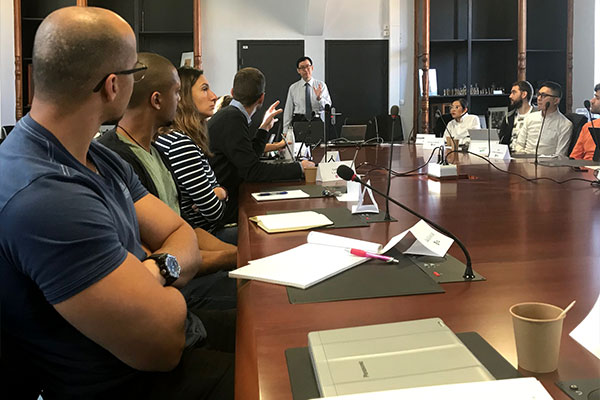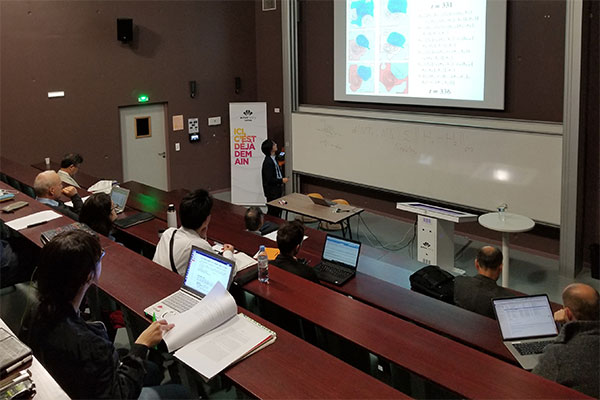 Kohei Sakaki (Japan Society for the Promotion of Science Postdoctoral Fellow at the Institute of Development, Aging and Cancer), who also participated in the Health Technology Workshop, said, "The University of Lorraine's approach to research aims to apply cutting-edge technology to real life, such as measuring the daily activities and movements of the elderly using beacons and accelerometers. There were many points raised that relate to the research being carried out at the Institute of Development, Aging and Cancer, and I was able to acquire new knowledge. For me personally, this was my first visit to a non-English-speaking region, and conversing with others for whom English was also a second language was a fresh experience. Once again, I realized that learning English can open the world to us. Some people may feel daunted at the prospect of delivering a research presentation in English, but since they will already have knowledge of the topic and of the research, they will understand the meaning and context even if their English is somewhat poor. I hope that Tohoku University students will also come across such opportunities and have the courage to challenge themselves in this way."
The two sides held a final day round table meeting with the theme of "How to strengthen collaboration between Lorraine and Tohoku University." The two presidents were joined by representatives from the French Ministry of Higher Education, Research and Innovation, the French National Center for Scientific Research (CNRS), the Administration of the Grand Est Region, and the JSPS Strasbourg Office.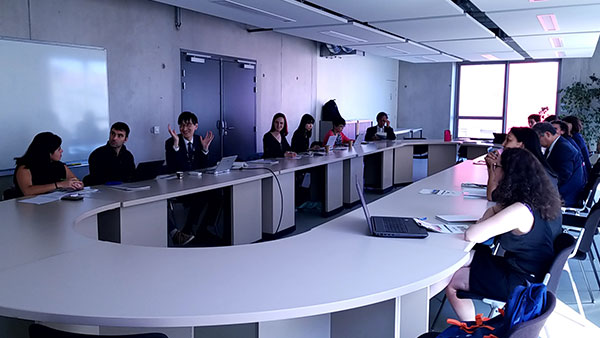 At the meeting, President Ohno said, "I would like us to encourage exchanges by our students and early-career researchers so that there are opportunities for the birth of new ideas." President Mutzenhardt of the University of Lorraine said, "I would like us to qualitatively improve our exchanges through strategic cooperation that takes advantage of the characteristics of both universities."
In addition, the CNRS and JSPS representatives spoke of utilizing various research support programs according to level and scale. Furthermore, they expressed their expectations for collaboration.
After the meeting, the two presidents signed a double PhD degree program agreement. The aim is to develop educational collaboration between the two universities by developing a framework for developing specialists vis-à-vis research exchanges.
At the end of the ceremony, the two presidents announced the creation of a joint research fund to support three research projects.* Tohoku University will contribute ¥4,500,000, and the University of Lorraine will contribute €45,000, with further funding structure adjustments to be made later. It was also announced that a workshop will be held in Sendai in the fall of 2020. Through this workshop, Tohoku University and the University of Lorraine will build a system that covers everything from exchanges in research to collaboration in educational matters. It is expected to become a new model for collaboration between Japanese and French universities.
* Details regarding applications for the Tohoku University- University of Lorraine Joint Research Fund will be announced at a later date.

News in Japanese
Contact:
Tohoku University Global Engagement Division
Tel: +81 22 217-4844
Email: kokusai-r

grp.tohoku.ac.jp