Tohoku University has renewed its academic exchange agreement with Foreign Trade University and concluded a new exchange agreement with Thuyloi University (formerly Water Resources University). President Hideo Ohno and Executive Vice President Toshiya Ueki, led a delegation of 14 members from Tohoku University to Hanoi for the signing ceremonies on February 23.
The renewal of the Academic Exchange Agreement with Foreign Trade University was signed by the presidents of both universities in front of a large group of faculty and staff.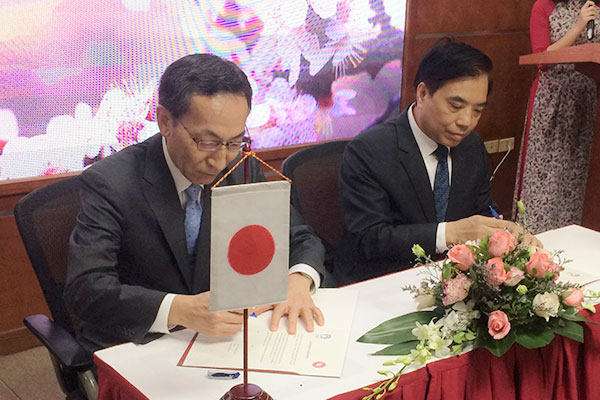 Speaking at the event, President Ohno noted that there have been many successful exchange activities since the original agreement was made in 2013. He expressed hope that the renewal will lead to even stronger collaborative efforts in the future.
Foreign Trade University President Bui Anh Tuan presented a Certificate of Appreciation to President Ohno, and to the deputy director of the Tohoku University's Global Learning Centre, Kazuko Suematsu, for their contributions towards developing exchanges between the two universities.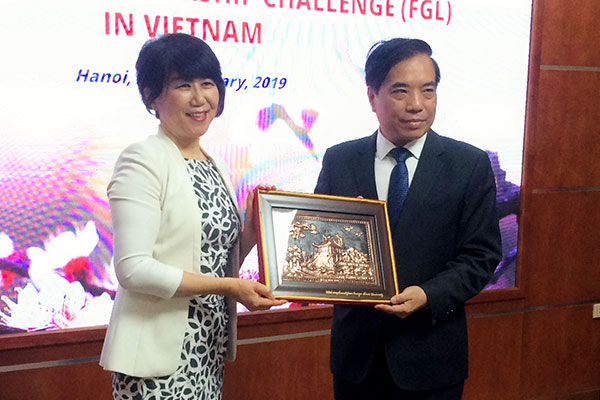 Foreign Trade University was founded in 1960 and is considered Vietnam's leading university for the humanities and social sciences. In 2015, the Tohoku University-Foreign Trade University Cooperation Office was established at the FTU campus in Hanoi. The Cooperation Office provides support to FTU students returning from Japan, as well as students from Tohoku University who are studying at FTU.
The office also carries out community outreach and various public relations activities at local high schools, such as promoting Tohoku University's Future Global Leadership programme.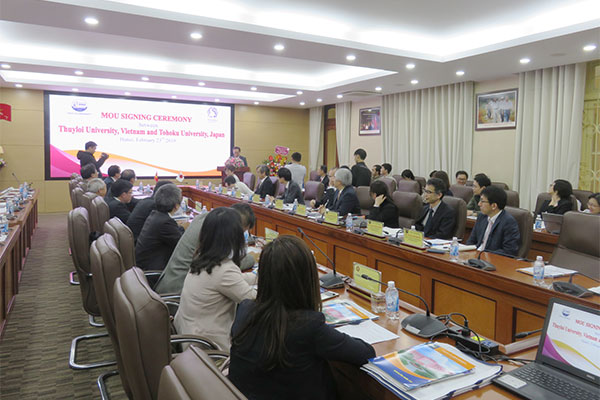 Later on the same day, the signing ceremony for an academic exchange agreement between Thuyloi University and Tohoku University was held.
Thuyloi University, which leads Vietnam in the field of water resources management, began collaborative research with Tohoku University in the late 1990s. Vice President Nguyen Trung Viet received a doctoral degree from Tohoku University, having studied under Professor Hitoshi Tanaka at the Graduate School of Engineering.
As a result, education and research exchanges between the two universities became more active, especially in the fields of water environmental engineering and environmental hydrodynamics.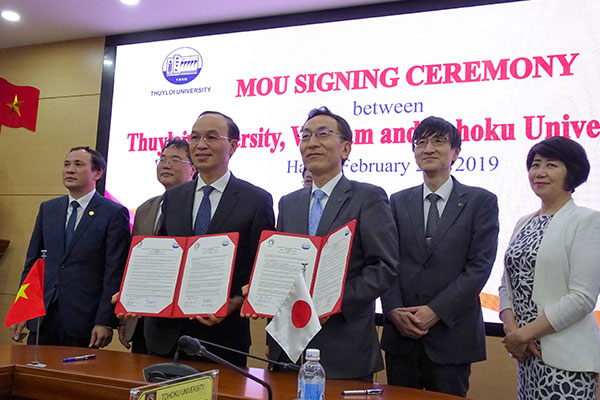 In 2007, Thuyloi University concluded a department-level exchange agreement with the Graduate School of Engineering, and this has now been followed by the signing of the university-level agreement. With its conclusion, academic exchanges are expected to be further expanded and deepened.

News in Japanese
Contact:
Tohoku University International Exchange Division
Tel: +81 22 217-4844
Email: kokusai-r

grp.tohoku.ac.jp