A delegation consisting of senior staff from Thai Binh University, led by Vice President Tran Thi Hoa, visited Tohoku University on June 29. As part of their courtesy visit to President Susumu Satomi, the group sought future academic exchanges between the two universities. They were accompanied by guests involved in academic exchange and business ventures with Vietnam's Thai Binh Province.
The two universities' representatives met on the side to outline their common interests and unique strengths with a view to future exchanges of students and researchers. The Vietnamese representatives were especially interested in sending staff to Tohoku University to attend graduate school courses which are offered in English.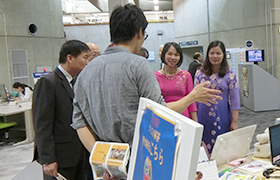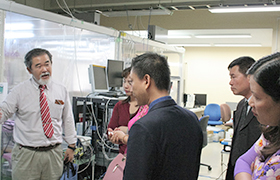 While on campus, the group visited the Tohoku University Library, University House and the Graduate School of Engineering.
They met with Professor Kazuya Yoshida of the Department of Aerospace Engineering, who introduced the research currently being carried out on state-of-the-art space robotics.
The group also took a great interest in the development of microsatellites in collaboration with the Philippines and Vietnam.
Thai Binh University is located approximately two hours from Hanoi, the capital city of Vietnam. Like Tohoku University, it is a practical-oriented university which focuses on the social science and engineering fields, and there are currently about 4,000 students enrolled. It is the main higher education institution for which the provincial government is responsible.
Contact:
International Exchange Division
Tel: +81 22 217-4844
Email: kokusai-k@grp.tohoku.ac.jp