Beijing University of Technology hosted an international symposium on October 21, on "How to Nurture Innovation and Entrepreneurship." Attending on behalf of Tohoku University President Susumu Satomi, Associate Executive Vice President for International Affairs Masahiro Yamaguchi delivered a keynote speech.
Titled "Educational Reform at Tohoku University in the era of Globalization and Innovation," the speech outlined the university's on-going efforts to cultivate highly-talented students and faculty who can thrive in an increasingly global society. AEVP Yamaguchi also spoke of Tohoku University's academic and support programmes for graduate students, particularly in the context of the Japanese government's approach to higher education.
Presidents and representatives from universities around the world - including Ireland, Germany, France, Finland, Canada, Hong Kong and Pakistan - attended the event, which also featured presentations and a discussion on the theme of innovation and entrepreneurship.
Prior to the symposium, AEVP Yamaguchi met with Beijing University of Technology President Liu Gonghui, to explore future exchange opportunities between the two universities.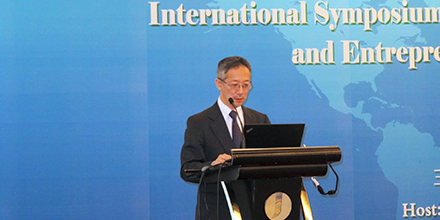 Contact:
Tohoku University International Exchange Division
Tel: +81 22 217-4844