A six-member delegation from Zhejiang University, led by the vice-chairman of its Development Committee, Professor Chen Zichen, visited Tohoku University on April 16.
They met with Executive Vice President Toshiya Ueki, and took the opportunity to renew the academic exchange agreement which has existed between the two universities since 2001.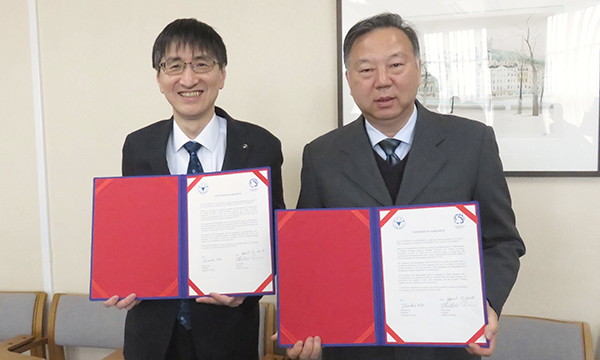 Chen is widely credited with the development of education and research at Zhejiang University, and his efforts have resulted in a great number of exchanges between students and of researchers of both Zhejiang and Tohoku universities.
In recognition of his achievements, he was presented with the Outstanding International Exchange Award from Tohoku University's School of Engineering last August.
During his visit, Chen spoke of the opening of the new Haining International Campus at Zhejiang University in November last year, and of the new opportunities for academic exchanges that this development presents.
After the meeting, the delegation visited the Graduate School of Engineering at Aobayama campus, and discussed future cooperative opportunities with Dean Tetsuya Nagasaka.

News in Japanese
Contact:
Tohoku University International Exchange Division
Tel: +81 22 217-4844
Email: kokusai-r@grp.tohoku.ac.jp