The joint research of Tohoku University, Center for Innovative Integrated Electronic System (CIES) and Keysight Technologies, Inc. has successfully led to the release of a new test solution product. It is a unique dedicated system for characterizing emerging devices such as magnetic tunnel junction (MTJ) on silicon wafers, accelerating the efficiency of device characterization and memory production testing.
This product - Keysight NX5730A High-Throughput 1 ns Pulsed IV Memory Test Solution - was announced by Keysight Technologies, Inc. on September 18, 2017.
This CIES and Keysight joint research is based upon one of the industry-academic collaboration subjects, "R&D of STT-MRAM aimed at developing non-volatile working memory and its manufacturing technologies" in the CIES consortium. This research program tries to accelerate the realization of nonvolatile working memories that will make super-low-power electronic systems possible. It is also hoped that, by extension, these low power electronic appliances will contribute to the creation of a low carbon society.
About Tohoku University, Center for Integrated Electronic Systems
Center for Integrated Electronic Systems (CIES) was established in October 2012 as the first research base of the science park located at the new extension of Tohoku University's Aobayama Campus. It aims to research innovative integrated electronic systems with energy-saving technologies, utilizing the various basic research seeds of Tohoku University and the centripetal force of academic-industrial collaboration experiences. Through CIES, Tohoku University has the first 300mm wafer process line and characterization tools that are compatible to industrial level R&D. This facility allows Tohoku University to form dynamic collaborations with companies that require cutting edge materials, tools, devices and systems.
About Keysight Technologies
Keysight is a global electronic measurement technology and market leader helping to transform its customers' measurement experience through innovation in wireless, modular and software solutions. Keysight provides electronic measurement instruments and systems and related software, software design tools and services used in the design, development, manufacture, installation, deployment and operation of electronic equipment.
Glossary
Magnetic tunnel junction (MTJ): MTJ is a kind of device including magnetic materials, which has hysteresis characteristics of its resistance. It is a promising device for high-speed and low-power nonvolatile memory large scale integrated circuits (LSIs).
Spin Transfer Torque Magnetic Random Access Memory (STT-MRAM): A memory LSI using MTJ device. It features a fast and nonvolatile operation, especially appropriate to "working memory" applications like DRAM (Dynamic Random Access Memory) and SRAM (Static Random Access Memory).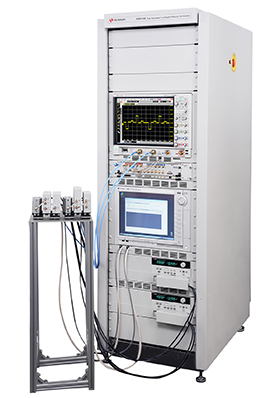 Keysight NX5730A High Throughput 1 ns Pulsed IV Memory Test Solution Ⓒ Keysight Technologies Inc.

News in Japanese
Contact:
Yasunobu Mizomoto
Director, Strategic Planning Division
Tohoku University, Center for Innovative Integrated Electronic Systems
Tel: +81-22-796-3410
Email: y-mizomo@cies.tohoku.ac.jp