Tohoku University reaffirmed its commitment to international academic cooperation with leading universities in the United Kingdom at a RENKEI Steering Committee meeting held on April 27 - 28 in Tokyo.
RENKEI is a consortium of universities which promotes collaborative research between the UK and Japan in higher education and industry. Tohoku University is a founding member and has hosted and participated in a number of joint workshops in both countries.
The two-day meeting was held at the British Council, which acts as the secretariat for RENKEI. Director of British Council Japan Matt Burney welcomed the group, which included some 30 participants from 12 member universities, as well as Elizabeth Hogben, head of science and innovation at the British Embassy in Tokyo. Representing Tohoku University was Executive Vice President Toshiya Ueki.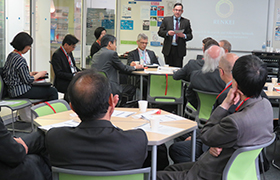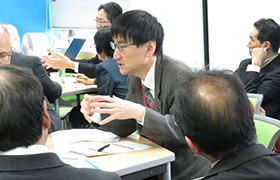 The meeting began with an introduction of RENKEI's accomplishments since its founding in 2012. This was followed by a group discussion where the universities formulated their plans for the consortium's second working period which begins in May 2018.
On the second day, the British Council summed up each group's suggestions, and after further detailed discussions, agreement was reached on an activity plan for the one-year transitional period.
RENKEI member universities will next come together at the consortium's Annual Meeting, which will be hosted by the University of Southampton later this year.
About RENKEI
RENKEI's official name is the Japan-UK Research and Education Network for Knowledge Economy Initiatives.
Launched in 2012, RENKEI promotes partnerships between the UK and Japan in industry and higher education with the aim of developing future leaders in both societies. RENKEI encourages and facilitates collaborative research initiatives, the sharing of knowledge and cooperation with industry in the development of human resources in pursuit of this goal.
The British Council acts as the secretariat of RENKEI.

Member Universities:
UK: University College London, University of Bristol, University of Leeds, University of Southampton, University of Liverpool, Newcastle University
Japan: Kyoto University, Osaka University, Tohoku University, Nagoya University, Kyushu University, Ritsumeikan University
Link:

News in Japanese
Contact:
International Exchange Division, Tohoku University
Tel: +81 22 217-5578
Email: kokusai-k@grp.tohoku.ac.jp