In Japan, autumn is a season to enjoy many indulgences, including food. So from October 18 - November 19, Tohoku University, in partnership with Co-op, will again be offering students breakfast for 100 yen.
This five-week event will feature newly harvested rice, and dishes made with nutritious ingredients such as Sangen pork from Gunma prefecture. Students can choose a cooked breakfast from two set-menu options at Kawauchi no Mori Dining, or take away a bento.
Here is the menu (pdf).
Dates: Oct 18 - Nov 19 (excluding weekends and holidays)
Time: 7:50 am to 8:50 am
Place: Kawauchi-no-Mori Dining Room, Kawauchi-Kita Campus
Price: 100 yen
A meal card or student ID is required.
This fourth round of affordable breakfast is once again sponsored by the Tanaka Memorial Foundation through the Tohoku University Fund. The Tanaka Memorial Foundation, which is part of the Tanaka Precious Metals Group, supports the research of precious metals through grants, and provides several scholarships each year to students of science and engineering at Tohoku University.
Hayashi Farm Co. Ltd. and Gunma Meat Co. Ltd. - whose presidents are Tohoku University alumni - are also back with another donation of their highly popular Sangen pork.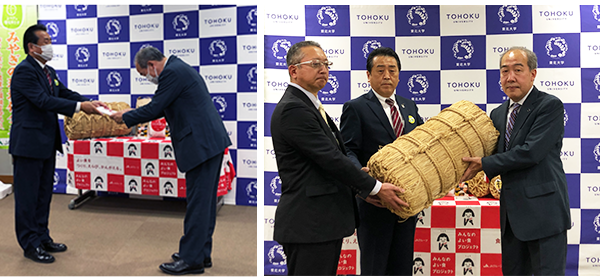 And, for the first time, JA Group is providing 1 tonne of newly harvested Hitomebore rice, grown entirely in Miyagi prefecture.
At a small ceremony on October 15, Executive Director of JA Miyagi, Shin Takahashi, described the rice as "environmentally-friendly" as less pesticides and chemical fertilizers were used during cultivation. He said he hoped the special rice would "promote good health while also preserving the rich nature of Miyagi's water and soil."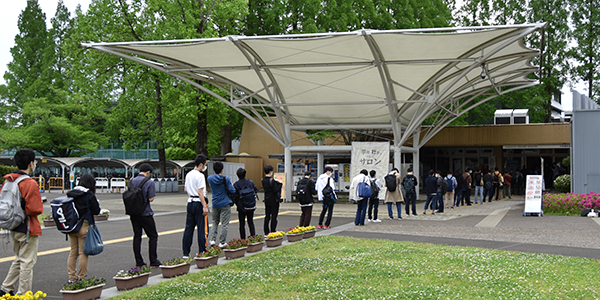 This series of 100 yen breakfast promotion is part of the Tohoku University Alumni Association's on-going "Support Student Life!" campaign aimed at helping students who might be struggling financially due to the on-going COVID-19 pandemic.

News in Japanese
Contact:
Student Support Division
Education and Student Support Department
Tel: +81 (0)22-795-4719
The Tohoku University Fund Office
Tel: +81 (0)22-217-5058
Email: kikin

grp.tohoku.ac.jp