Tohoku University has won the 61st National Seven Universities Athletic Meet, held this summer in Sendai. It's an unprecedented fourth consecutive victory for Tohoku University, and its 16th championship title in the tournament's history.
This year, athletes from the seven former imperial universities - Hokkaido University, Tohoku University, the University of Tokyo, Nagoya University, Kyoto University, Osaka University and Kyushu University - competed in 44 sporting events, from ice hockey in December, to table tennis and archery in late September.

At the tournament's closing ceremony on September 23 on Katahira campus, the final results were tallied and announced.
Tohoku University, who hosted the tournament, finished in first place, with a total score of 187 points. Kyushu University took second place with 168 points, while the University of Tokyo came in third with 165.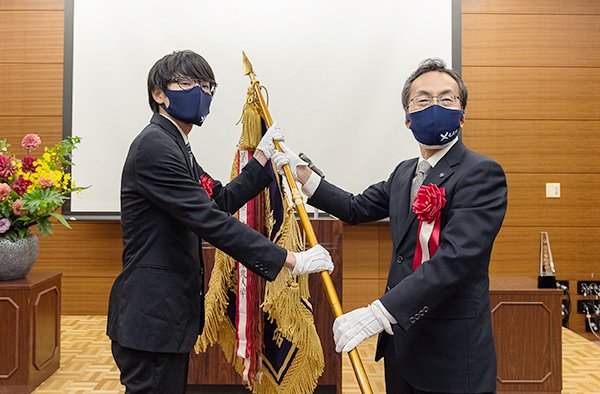 President Hideo Ohno presented the championship flag to Mitsuaki Toyoshima, the chairman of the Tohoku University Alumni Association Athletic Department Standing Committee. And the championship cup was handed to Mikito Sekine, incoming chairman of the Standing Committee.
The National Seven Universities Athletic Meet is usually held annually, but the tournament had to be put on hold in 2020 and 2021 due to the COVID-19 pandemic.
In his speech, President Ohno acknowledged the challenges of the last few years, adding that this year's athletes competed not only for the pride of their universities, but also "on behalf of their seniors who had graduated in the last two years when this tournament had to be paused."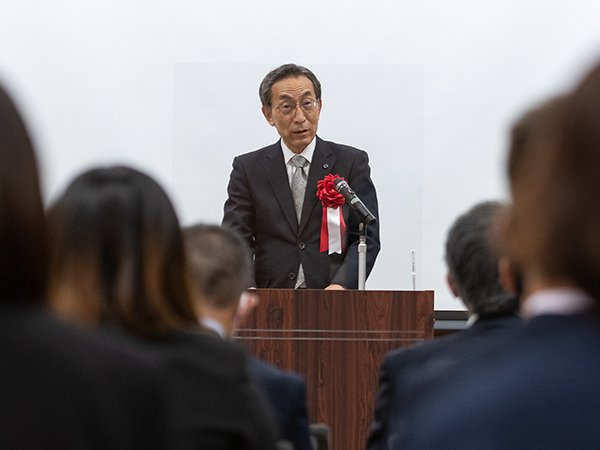 He also praised all the athletes for successfully balancing sports and academics, and the organisers for their tireless work behind the scenes. "I'm sure that the experience of working together on this tournament, with all the shared joys and disappointments, has given you memories and motivation for the future."
And finally, to the athletes and organisers from Tohoku University, he had one extra message. "Congratulations on winning the championship," he said. "As president of Tohoku University, I am so very proud of you for this great achievement."
Results of each sporting event can be found on the tournament's homepage.
The 62nd National Seven Universities Athletic Meet will be hosted next year by the University of Tokyo.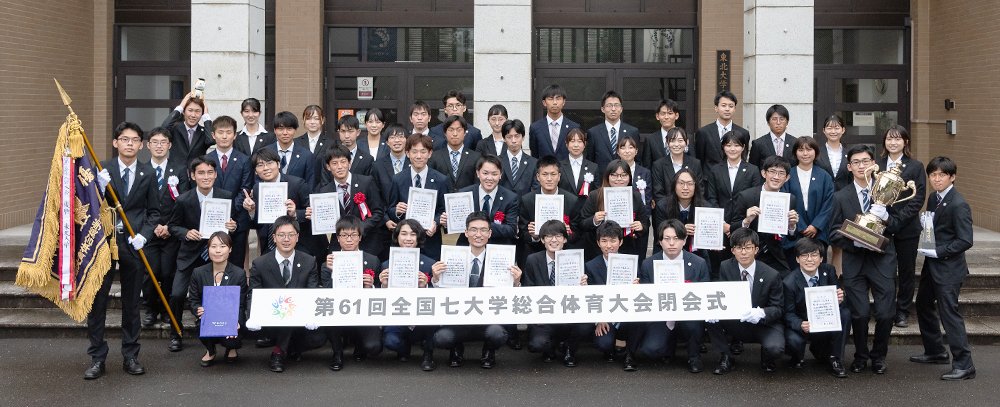 Contact:
Activities Support Section
Tohoku University Education and Student Support Department
Tel: 022-795-3983
Executive Committee
61st National Seven Universities Athletic Meet
Email: 61st.nanadaisen

gmail.com