In the spirit of the Christmas season, 20 elementary school children from all across Japan participated in an online holiday craft session on December 19 with the Tohoku University Science Angels.
The event - part of the Tohoku University Science Campus - was organized by the School of Engineering's Innovation Plaza, the Association of Leading Women Researchers in Engineering (ALicE) and the Tohoku University Center for Gender Equality Promotion (TUMUG).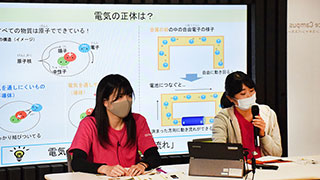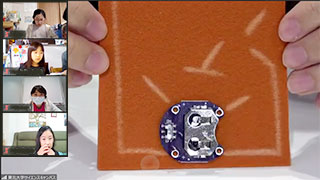 The children, aged between 10 and 12, were divided into small groups led by seven Science Angels, who gave a simple lesson on electrical engineering. They then made Christmas ornaments using felt material, conductive threads, a transistor, an illuminance sensor and a light emitting diode (LED).
"I was really impressed with the positive attitude and flexibility of the students who took part. Even when some of them couldn't get the light to come on immediately, they patiently checked their work and tried again," said Ayaka Morizane of the Graduate School of Life Sciences. "It was such a fulfilling experience for me."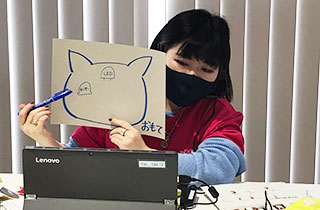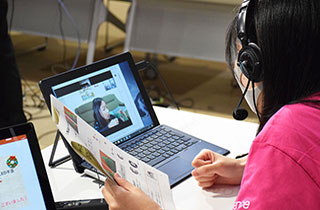 Fellow Science Angel Mina Yamaguchi of the School of Engineering, added that interacting with the children was a lot of fun, despite not being able to do so in person. "It was sometimes difficult to help them because we couldn't see their hands closely through Zoom. But it was fun to talk to them and see their reactions, especially when they were able to get the LED to light up."
The children too, said they had fun and learnt a lot.

"At first, when I put the batteries in, the light did not turn on. I reviewed the circuit diagram again and realised that even if only one part is wrong, the light will not turn on," said Sho (6th grade). "Thank you very much to the Science Angels for explaining how the conduction works. I had a good time."
Yuta (6th grade) agreed. "The explanation was easy to understand and I was able to succeed, so I was happy. The most difficult part was sewing the thick felt! "
"Everyone was very kind, and I had fun," added Ena (4th grade).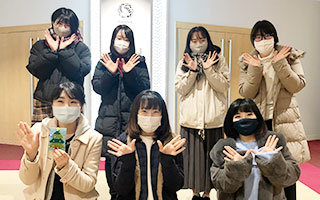 The Science Angels programme was initiated in 2006 and remains a cornerstone of Tohoku University's on-going efforts to promote the role of women in science and technology.
Through year-round outreach programmes like this, the Science Angels serve as role models for young girls and regularly provide simple lectures and hands-on science experiences to school-age children.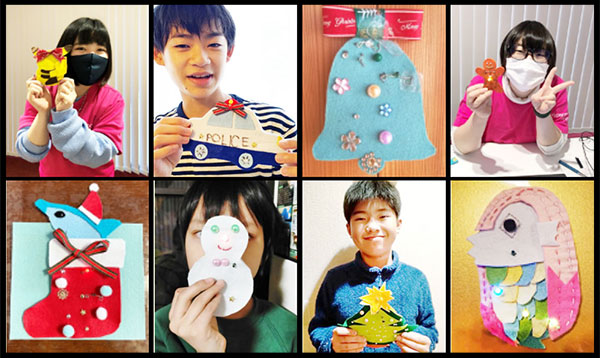 Contact:
Tohoku University Science Campus(Innovation Plaza, School of Engineering)
Email: tsc

grp.tohoku.ac.jp
Website: https://www.ip.eng.tohoku.ac.jp/en/campus/campus.html
Association of Leading Women Researchers in Engineering, Tohoku University (ALicE).
Email: eng_alice

grp.tohoku.ac.jp
Website: http://alice.eng.tohoku.ac.jp/
Tohoku University Center for Gender Equality Promotion (TUMUG)
Email: office

tumug.tohoku.ac.jp
Website: http://tumug.tohoku.ac.jp/en/