The 2022 Tohoku University Entrance Ceremony was held today at Xebio Arena Sendai, for 4,903 new undergraduate and graduate students.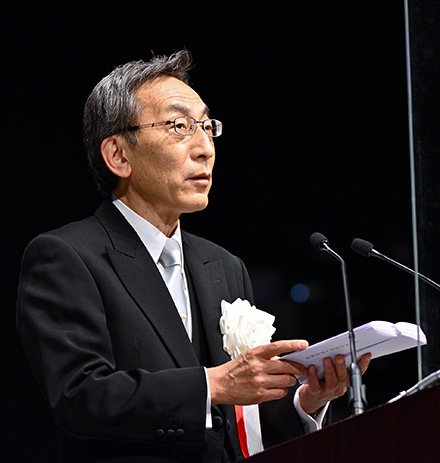 In his speech, university president Hideo Ohno congratulated the students on the start of their new academic journey. "I'm sure that you are all filled with anticipation for your university life. We hope you will put your thoughts into action; connect with your fellow students; enjoy extracurricular activities and engage with society with an open mind. Whether you have already decided on your direction or are still searching for it, Tohoku University has a great environment to help you get there."
He also spoke briefly about the three tenets that have defined the university since its founding in 1907 - Research First, Open Door and Practice-oriented Research and Education - and expressed his hope that the new students will continue the legacy of innovation, collaboration and embracing diversity.
For the international students in the audience, President Ohno included a message in English. "I am confident that your time at Tohoku University will be intellectually stimulating and emotionally fulfilling. You will meet people from many backgrounds and diverse cultures and you will experience things from different perspectives," he said. "You might be confronted with a lot of information, experiences, and sometimes, difficult challenges. But just remember that we are all here to help and support you."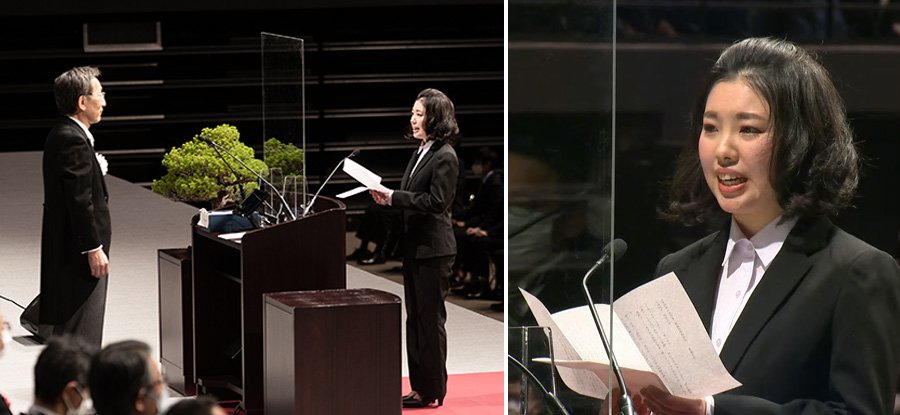 Mizuki Endo from the Graduate School of Information Sciences, gave a short speech on behalf of the 2,419 first-year graduate students.
She referred to the challenges of recent months, including the on-going pandemic and the earthquake in March, and said that despite problems in the world, "we must not look away from things that make us uneasy. Instead, we should try to understand the issues and find solutions for a better future. I believe we have the strength to do so."

Representing 2,484 first year undergraduates, Izumi Horiguchi from the School of Engineering also spoke of tackling challenges head-on. "It seems that all the problems we are facing have no simple solution. Therefore, we should first thoroughly understand the basics of science, realize our own capabilities and work towards becoming experts in our chosen fields so that we can be on the front lines of problem solving," she said. "We will do our best to live up to the expectations put on us as Tohoku University students."
The ceremony ended with two videos - the school song, "Aoba Moyuru Kono Michinoku," with a montage of student life at Tohoku University; and a performance by the university's cheerleading group, "Oendan."
A new set of interactive "Augmented Reality" photo frames - with special Tohoku University elements - was also launched, for students to mark the occasion with friends and family. All students can access the AR feature with their mobile phones via these links (English, Japanese).


Contact:
Tohoku University Education and Student Support Center
Academic Affairs Division
Tel: 022-795-3819