The Tohoku-Japan qualifiers for the prestigious Falling Walls Lab competition took place at Tohoku University's TOKYO ELECTRON House of Creativity last week. Twelve young entrepreneurs took part this year, vying for the chance to pitch their innovative research ideas at the event final in Berlin.
"There's nothing more important than innovation. If we don't innovate, we don't change and we don't improve," said Professor Marty Kuehnert, senior advisor to the university president and a member of the Sendai judging panel. "This is a marvelous competition because it stimulates young people to think of ways to make our world better."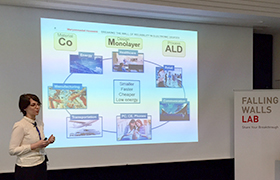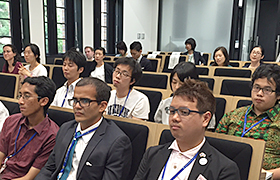 Iranian PhD student Maryam Sadat Hosseini came away with the top prize for her presentation, "Breaking the Wall of Reliability in Electronic Devices." She addressed the need to replace conventional metals with new materials of less resistance, such as cobalt, in the next generation of electronic devices.
In her acceptance speech, she said that her research taught her the importance of always looking at what's inside. "Just like it's the insides of electronic devices that allow people to communicate, go to other planets and see exciting things, it is only by looking inside ourselves that we create a better world."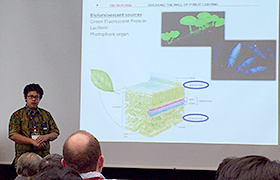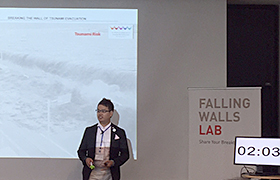 Delta Putra, who's originally from Indonesia, took second place for his idea of using plants to create illumination. In his presentation titled "Breaking the Wall of Public Lighting," he proposed combining plants with bioluminescent molecules from other organisms to provide night light.
"I was not expecting to win," Putra said, adding that this was the first time he had spoken to a large group in public. "But I'll do my best in Berlin!"
Third place went to Natt Leelawat for "Breaking the Wall of Tsunami Evacuation," about a mobile application that can assess a building's damage after a tsunami. Leelawat's motivation for his research and interest in disaster science came from experiencing the 2004 tsunami in his native Thailand.
"I was an undergrad student at that time living in the dormitory. My university became an evacuation shelter and they needed volunteer staff. My friends and I went to help. It was the first time that I realized how much damage natural disasters can really cause and the impact they have on people's lives."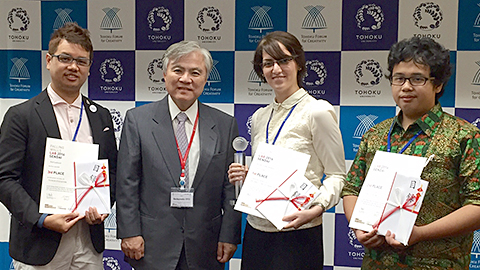 The Falling Walls Lab is an international competition started in 2011 for innovative young minds. Contestants pitch their ideas and initiatives for social change in a 3 minute presentation, after which they field questions from the jury.
Contestants are judged on the "breakthrough factor" of their research, the social relevance of their work, and the persuasiveness of the presentation.
Professor Fumio S. Ohuchi of the University of Washington, and also a member of the Sendai judging panel, said he was impressed with the participants' efforts but has this advice for the Berlin-bound winners and future contestants: keep it tight, simple and easy to understand.
"This is not a research presentation, it's a presentation to convince people that your idea is worthwhile. Not everyone will be interested in your research. But everyone will be interested in how your idea can be applied and how it can impact society, so that's the message that must come across.
The three winners from Sendai will join winners from other international Labs around the world for the Falling Walls Lab Final in Berlin on November 8.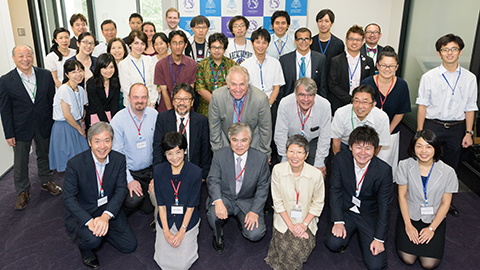 Contact:
Tohoku Forum for Creativity
Tel: +81 22-217-5972