Twenty Tohoku University students who are deemed to best reflect the university's internationalization efforts, were conferred awards this week by President Susumu Satomi.
The ceremony was held at Katahira campus.
Fourteen students received the prestigious Global Hagi Scholarship, which will go towards study abroad programmes at Tohoku University's partner institutions around the world.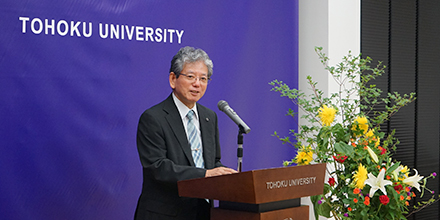 President Satomi, who has spoken often about the growing need for Japanese youth to think and act more globally, praised the students for taking on the challenge of an international experience.
"Following the Great East Japan Earthquake in 2011, our Tohoku region received tremendous support from overseas," he said. "As Global Hagi scholarship recipients, you now have the chance to give something back, to contribute actively to the international community. I hope you will be good ambassadors and role models, representing Tohoku University and Japan to the world."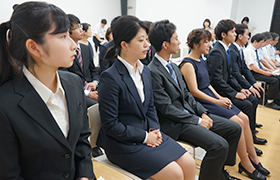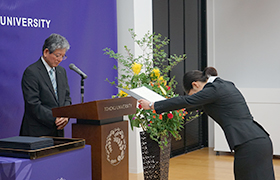 The opportunity to be active on a global stage is one of the reasons Nana Sato has chosen to spend a year in Switzerland. "The United Nations has a large presence in Geneva and I want to learn more about the U.N., maybe take some seminars if I can," she said. "It's also a good place to improve my language skills, especially English and French, so that in the future, I can communicate and work with people from more places around the world."
For engineering biochemistry student Yuto Katsuyama, going to the University of California is a chance not only to make new friends, but also to augment his coursework here. "In Tohoku University, we can learn the technical side of biochemistry. But at Berkeley, I'm going to study the economics of engineering. I'm really looking forward to that."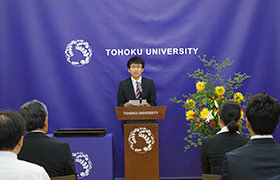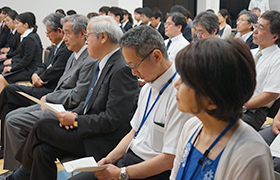 Six students received the Tohoku University Global Leader certification after collecting sufficient points from classes and activities that encourage a global mindset. These include taking international liberal arts classes, passing foreign language proficiency tests and going on study abroad programmes.
Sho Kawamura, whose dream is to work in television, hopes to study media at University of California Riverside. "Japanese people are not so out-going with other people. I think it's an important step forward for us to experience international things, be among people who have different opinions and have a more open mind."
The Global Leader Program was started in 2013 as part of the university's efforts to internationalise its curriculum and promote co-learning among students of different cultures. Forty-four students have so far been awarded the certificate.
Contact:
Student Exchange Division
Tel: +81-22-795-7820
Email: sab_query@grp.tohoku.ac.jp