Tohoku University held its commencement ceremony today at Kawauchi Hagi Hall. The late venue change was necessary after Kamei Arena Sendai was deemed unsafe for use following the 7.3M earthquake on March 16.
All 4,600 students that make up the graduating class of 2022, were invited to attend the ceremony in person. But with Hagi Hall only able to accommodate 1,235 people, lecture rooms in Building B of Kawauchi North Campus were set up as a satellite site. There, students who could not get into Hagi Hall, were able to watch a live broadcast of the ceremony together.
The ceremony comprised two 45-minute sessions - the first for graduate students and the other for undergraduates.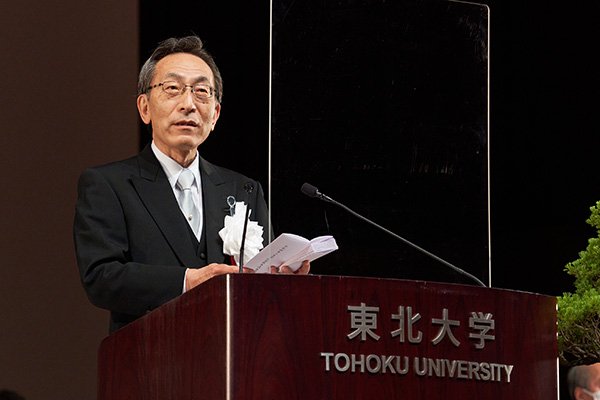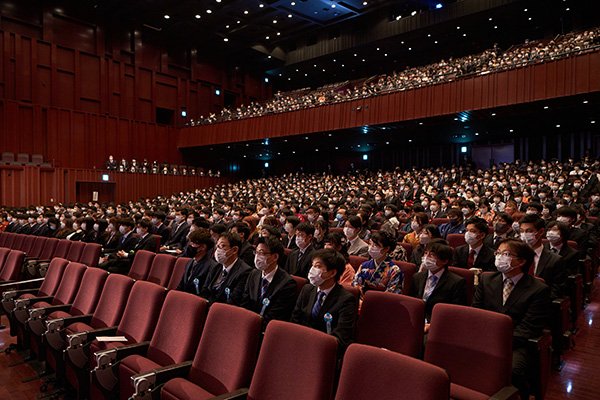 In his speech, Tohoku University President Hideo Ohno congratulated the 2,408 undergraduate and 2,192 graduate students for successfully completing their studies despite the challenges caused by the pandemic these past two years.
He spoke of Tohoku University's 115th anniversary this year, and its achievements in technological innovation, as well as in the humanities and social sciences. The university's long standing "research first" and "open door" principles, he said, reflect its strong belief in the value of diversity, and in putting the results of cutting edge research to use, for the good of society.
"Our most powerful assets are our students, our researchers, our staff, the people in our community and you, our graduates. You are playing a vital role in providing expertise, support and inspiration to not only current but future members of Tohoku University," he said.
The president ended his speech by urging everyone to stay connected with the university, even as they begin a new chapter in their lives. "Please keep in mind that today is not the end of the relationships you formed over the years at Tohoku University. Our alumni association has created a global community, for graduates to stay in touch, and more importantly, to help each other in difficult times. You are always welcome and you will always be appreciated."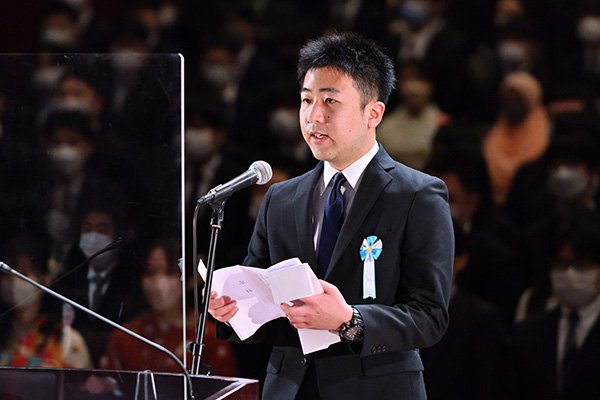 Valedictorian Kazuhide Mitsuya from the Graduate School of Engineering, spoke on behalf of the graduate students and thanked his professors, fellow students and family for their support.
He said that Tohoku University has given him a good foundation as a scientist and trained him well in the art of problem-solving. "The joy of achieving results during my undergraduate research was so memorable, it motivated me to work even harder during my graduate studies," he said, adding that "as we leave Tohoku University, all of us realize that we have a duty to use what we have learnt here to help improve the society around us."
The president also handed out special awards to three graduate students. Yukai Lu (Graduate School of Medicine) received the President's Award for academic excellence. Shunsuke Mori (Graduate School of Engineering) and Kai Tateuchi (Graduate School of Arts and Letters) both received the President's Outstanding Student Award, which recognizes recipients of the Japan Society for the Promotion of Science's Ikushi Award.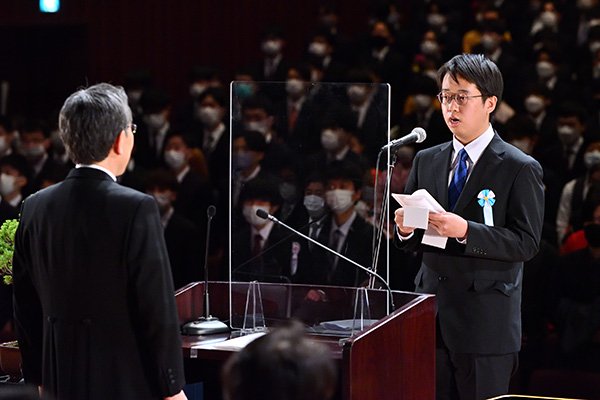 In the undergraduate ceremony which began at noon, valedictorian Riki Homan from the Faculty of Science said in his speech that life in the laboratories taught him the importance of keeping an open mind. "Through discussions with fellow students, colleagues and professors, I've had so many opportunities to gain new realizations outside my own perspective," he said. "In my time here, I've learnt the joy of expanding my horizons."
Rhalib Reda Akagawa (Faculty of Pharmaceutical Sciences), received the President's Award for Undergraduate Students. And Yui Takeda received the Students' Friendship Association Award for excellence in extracurricular and club activities.
Both sessions ended with the singing of the school song "Aoba Moyuru Kono Michinoku." After the ceremony, many students spent the afternoon taking pictures on campus and saying their goodbyes.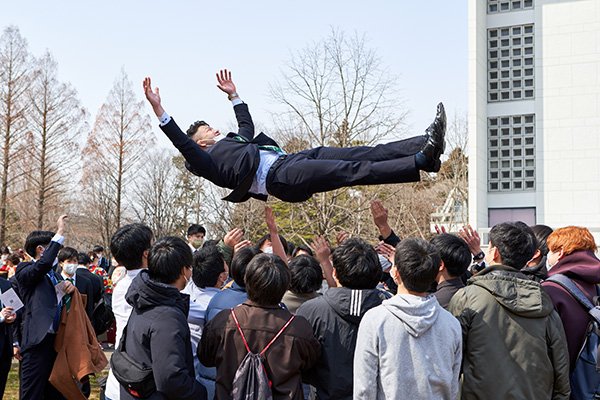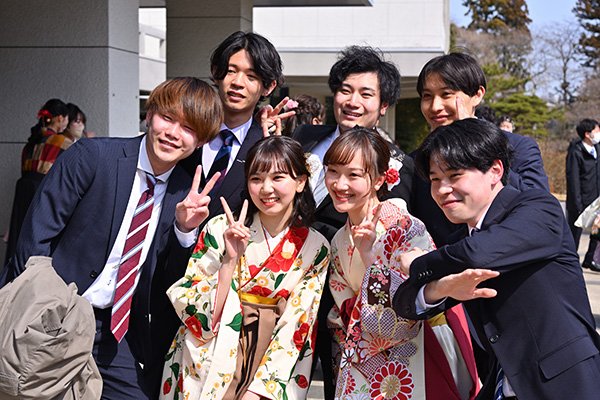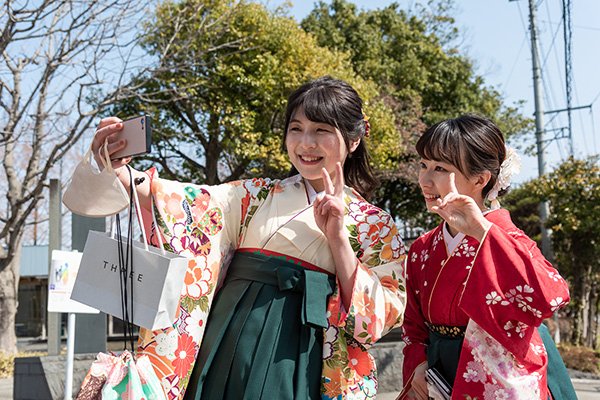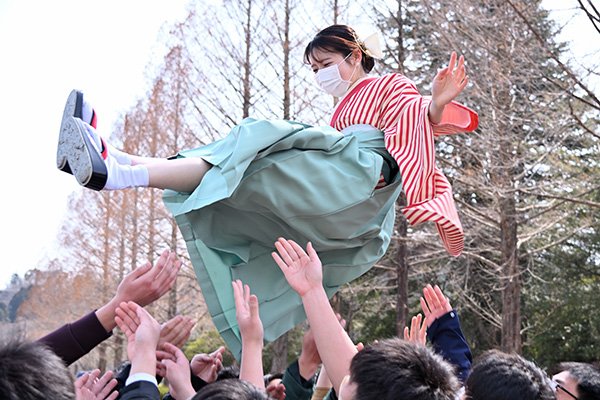 The Public Relations Department joins the president and the entire Tohoku University family in saying congratulations and good luck to the graduating class of 2022.
Contact:
Tohoku University International PR Section
Tel: +81-22-217-4816
Email: public_relations

grp.tohoku.ac.jp