After a two-year hiatus due to the COVID-19 pandemic, the Tohoku University Japanese Programme returned to its usual in-person format this summer, with a special collaboration with the National University of Singapore (NUS).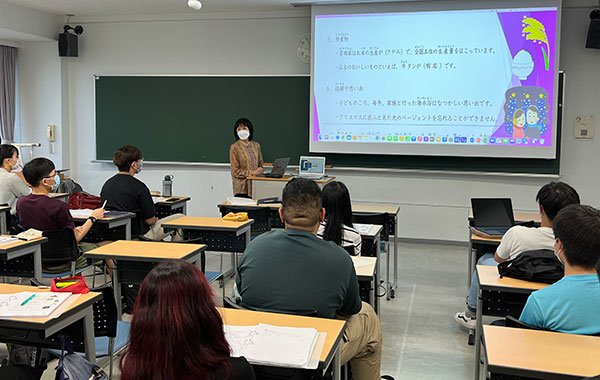 Over four weeks in July and August, 14 students from Singapore attended intensive Japanese language classes aimed at enhancing their fluency with native vocabulary and expressions.
They also had many opportunities to interact with Japanese Tohoku University students for a full immersion experience.
"The Japanese classes left the biggest impression on me because we could speak to the Japanese students instead of learning textbook grammar," said Kelly Tan. "It's a very different experience, very enjoyable and also insightful."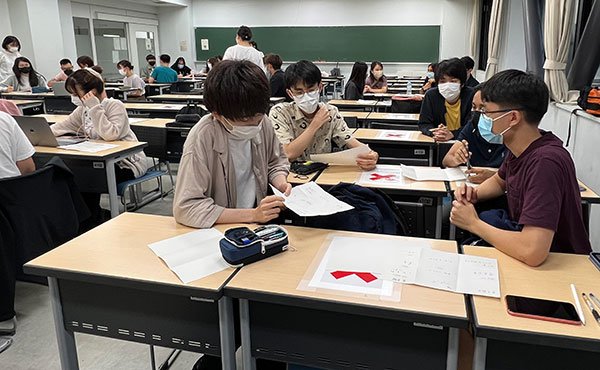 "I liked interacting with the Japanese students, not only to practice Japanese, but also to hear their thoughts and experiences," said Leong Yi Qian. "When we talk about Japan and Singapore, I tell them about our hawker centers. And in a recent class, the Japanese students told us about natural disasters like earthquakes and their experience in 2011. It was really interesting."
The students also attended lectures and workshops on Japanese culture, where they got to talk about Japanese animation, try their hand at origami and lend their voices and musical skills to Japanese songs and instruments.
"I really enjoyed the song workshop," said Thina Dhyalini. "I had a bit of a hard time pronouncing the words, but the instructor was so patient and made sure I understood the lyrics."
"In NUS I'm in the Chinese orchestra," said Janice Chen. "I like learning different kinds of musical instruments, and you can't easily find a koto or shamisen workshop in Singapore. So I had fun trying the koto and learning the song Sakura!"
"This one month has been really fun," added Dhyalini. "We've met so many new people and everyone has been so kind."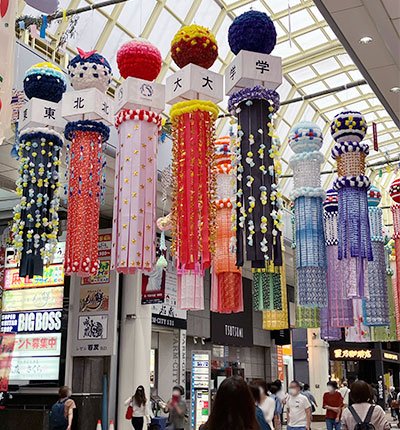 This year's TUJP had a particular focus on traditional festivals, which the Tohoku region is famous for. A member of the Sendai Chamber of Commerce and Industry briefly introduced the Nebuta Festival (Aomori), Kanto Festival (Akita), Morioka Sansa Odori (Iwate), Hanagasa Festival (Yamagata), Waraji Festival (Fukushima) and of course, the Sendai Tanabata Festival (Miyagi).
Every year, exchange students from the International Programme in Liberal Arts (IPLA) and local Tohoku University students work together to make traditional Tanabata ornaments as part of a class. The TUJP students had a chance to help out.

"These ornaments are made of delicate traditional washi paper and are 5 meters tall. So we need thousands of paper flowers and origami pieces, each folded by hand," said Associate Professor Yuka Sakamoto. "It was helpful to have the TUJP students join us for a session and to also have them be part of our annual Tohoku University Tanabata experience."
The finished ornaments were displayed downtown during Tanabata weekend.
Another summer staple in Sendai is the Suzume Odori, or Sparrow dance, which the TUJP students learnt with the help of professional dancer Nanae Inatomi.

In the final weekend, students attended a yukata workshop, and enjoyed the fireworks and Tanabata festivities downtown.
"It was really good to have the in-person programme back," said Senior Assistant Professor Yukiko Shimmi, one of the organisers of TUJP. "It is always nice when students can come and explore the campus, travel around Sendai and use their Japanese to interact with people around the city."
TUJP has always been a popular summer exchange programme, and the university is planning to add winter sessions online. "We hope these short experiences will stimulate the students' interest in Japanese language and culture, and that they will come back for a longer exchange or degree programme," said Shimmi.
To find out about more about future TUJP and other exchange programmes at Tohoku University, visit the Global Learning Center's website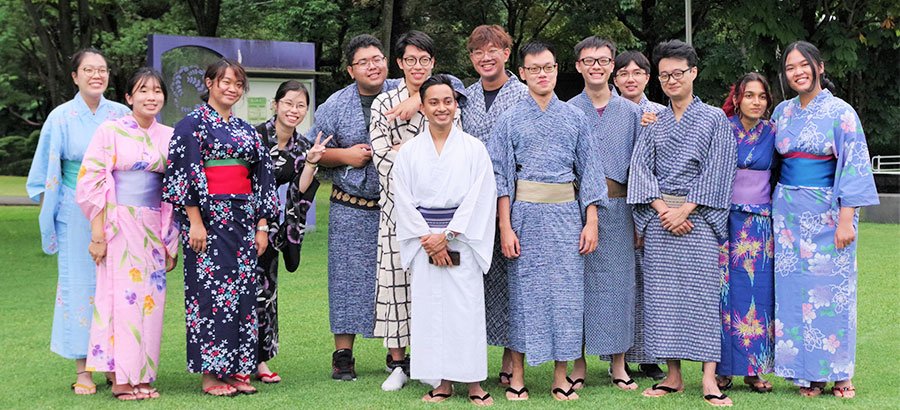 Contact:
Tohoku University Global Learning Center
Tel: +81 22 795-4818
Email: tujp

grp.tohoku.ac.jp (for TUJP)
Email: studyab

grp.tohoku.ac.jp (for all other exchange programmes)