The Nobel Prize, regarded as the highest intellectual honor in the world, is coveted by researchers far and wide. On August 23, Dr. Olov Amelin, Director of the Nobel Museum was in Sendai to give a special lecture on the story behind the Nobel Laureates. The lecture was held in conjunction with the Sketches of Science exhibition at Tohoku University.
'Sketches of Science' is a photo exhibition featuring more than 50 portraits of Nobel Laureates taken by German photographer, Volker Steger. Included in the exhibition are audio recordings from the prize winners, a display about the Nobel Museum, and related material from the university archives. 'Sketches of Science' was held at the Tohoku University Katahira Campus until August 31.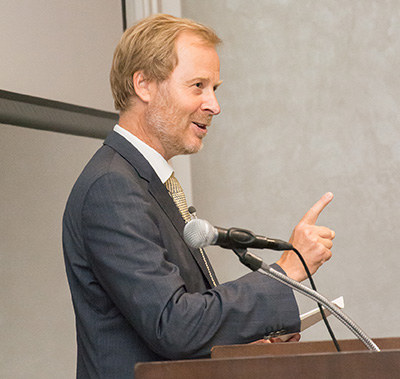 In his lecture, Dr. Amelin briefly described the background and personality of Alfred Nobel, the Swedish chemist who left his estate to go toward establishing the Nobel Prizes. He also introduced some Nobel Laureates, including the Japanese engineer, Dr. Koichi Tanaka, who won the Nobel Prize in Chemistry in 2002 for developing a novel method for mass spectrometric analyses of biological macromolecules.
Public dialogue with Dr. Masayuki Yamamoto, Executive Director of the Tohoku Medical Megabank Organization followed, and the secret of the Nobel Prize selection process -- such as who chooses laureates or how laureates will be recommended -- was revealed. Dr. Amelin pointed out that an individual who is focussed on the outcome of their research is more likely to win a prize than someone focussed on winning a Nobel Prize.
Contact:
Tohoku Forum for Creativity, Tohoku University
phone +81-22-217-5972
email sketch2014_tfc

ml.tohoku.ac.jp