The Japan qualifiers for the prestigious Falling Walls Lab competition took place at Tohoku University's TOKYO ELECTRON House of Creativity last week, bringing together academics and young entrepreneurs hoping for a chance to pitch their innovative research ideas at the event final in Berlin.
Three winners were selected from a group of 24 participants - Kai Wang, a student from the Graduate School of Medicine, Sahar Salehi, from the Advanced Institute for Materials Research, and Shingo Ishihara from the Institute of Multidisciplinary Research for Advanced Materials. All three winners are currently doing their research at Tohoku University.
Kai Wang - who was awarded 1st place - gave a presentation on pitch perception. Because everyone has different pitch sensitivity, his goal is to use pitch perception to personalize and improve acoustic instruments such as hearing aids.
Sahar Salehi - who shared 2nd place with Ishihara Shingo - presented her research on the local delivery of cells through the injection of cell-laden nanovehicles for skeletal muscle tissue engineering.
Shingo Ishihara shared his ideas creating social infrastructure that would reduce waste by generating hydrogen from natural sources of biomass and waste.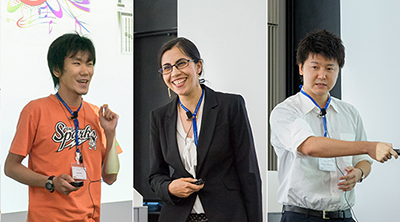 Kai

Wang

, Sahar

Salehi

, and Shingo

Ishihara
The Falling Walls Lab is an international competition started in 2011 for innovative young minds. Contestants pitch their research projects, initiatives and ideas for social change in a 3 minute presentation, after which they have to field questions from the jury. Contestants are judged on the "breakthrough factor" of their research, the social relevance of their work, and the persuasiveness of the presentation.
The three winners from Japan will join the winners of the other international Labs for the Falling Walls Lab Final in Berlin on November 8.