Students, faculty and staff who got their first two doses of the coronavirus vaccine last year, will be able to make an appointment for a third / booster shot from February 21. The boosters will be available at the Tohoku University Vaccination Center from February 28.
This booster/ third vaccination will be handled differently from the previous university-based vaccinations, so please check the information provided before making an appointment.
Date: February 28 - June 30, 2022

(updated)


Venue: Tohoku University Vaccination Center
Yodobashi Sendai Second building 4F, Tsutsujigaoka1-2-13, Miyagino ward, Sendai city (map)
Who: Students, faculty and staff who have a Tohoku University ID
Vaccine: Takeda/Moderna (dose administered will be half the size of the previous two doses)
Cost: Free (covered by the Japanese government)
To Make an Appointment:
Appointment date must be at least five months after your second vaccination.

(updated)

Please use your Tohoku University ID to access the special page at the TUBCP website:
https://www.bureau.tohoku.ac.jp/covid19BCP/vaccine_info_en.html
Appointments can be made (or rescheduled) up to 3 days before the vaccination date.
The appointment site will be closed when all available slots have been filled. There is no waiting list.
University-based vaccination is only available to Tohoku University students, faculty and staff with a Tohoku University ID. For the vaccination of family members, please use the Sendai City website.
Remember to Bring:
Pre-vaccination Screening Questionnaire and vaccination coupon
Identification documents such as a driver's license, health insurance card, staff or student ID card
Please note that you will not be vaccinated if you do not have the above items.
If the date of the first or second vaccination is not clearly indicated on your Pre-vaccination Screening Questionnaire, you must bring the vaccination certificate or record of vaccination from your first or second vaccination.
Please make sure that you understand the benefits, as well as the risks of adverse reactions, before making an appointment. It is not necessary that your booster shot be by the same manufacturer as your first two doses. So, if you received the Pfizer, Takeda/Moderna, or AstraZeneca vaccines the first two times, you can get either the Pfizer or Takeda/Moderna vaccine for your booster / third shot.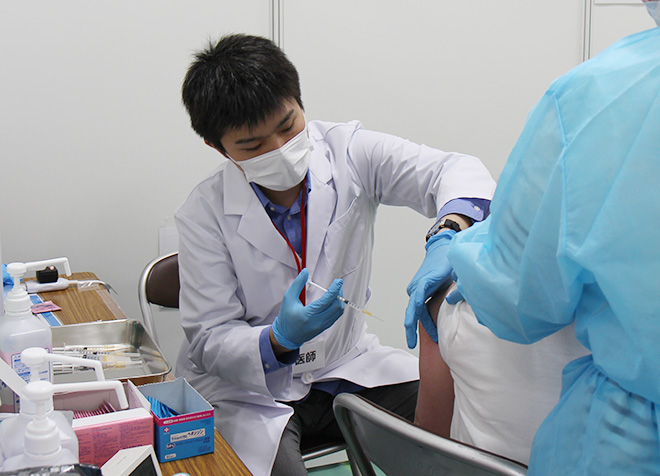 Note that the vaccine used by the Tohoku University Vaccination Center is by Takeda/ Moderna. If you wish to be vaccinated with the Pfizer vaccine, please check the Sendai City website or speak to your personal doctor for options.
This vaccination is not compulsory, and there may be compelling reasons (such as certain health conditions) why someone is unable, or does not wish, to be vaccinated. All members of the university are reminded not to discriminate against anyone based on their vaccination status.
Contact:
(For students):
Vaccination Consultation Service
Student Support Department *Login is required.
(For employees):
Vaccination Consultation Service
Human Resources Department *Login is required.
Tohoku University International PR Section
Tel: +81-22-217-4816
Email: public_relations

grp.tohoku.ac.jp