Five Chinese students have been conferred the Tohoku University Professor Fujino Incentive Award for 2016. They received their certificates from university president Susumu Satomi at a recent ceremony at Lu Xun's Lecture Hall.
Guest of Honour Takeshi Ebata, chairman of the Japan-China Friendship Association of Miyagi, praised the students for their adventurous spirit and expressed hope that they would share their positive experiences of Japan when they return to China.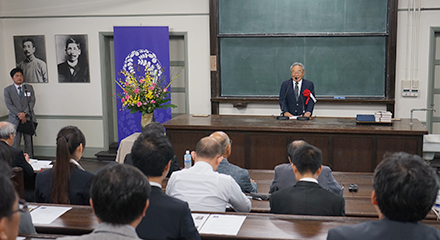 The Professor Fujino Incentive Award was set up in 2005 to recognise bright and promising Chinese students enrolled in graduate programmes here. Recipients are selected based on the achievements of their research papers, as well as their potential to contribute to future academic exchanges.
The five recipients this year are Sheng Fugang (Economics and Management), Li Jing (Science), Lu Xueqin (Engineering), Li Guanqiao (Environmental Studies) and Yu Kaihong (Biomedical Engineering).
"This is a great honour for me," said Yu Kaihong. "All Chinese students read Lu Xun's work in school. His articles are very powerful and have a very strong influence. So to every Chinese who studies here, no award can compare to this one."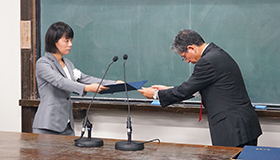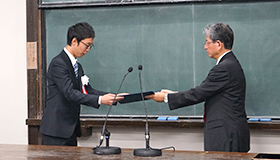 The award is named after Professor Genkuro Fujino, who had been Lu Xun's teacher when the Chinese scholar was a student at Sendai Medical College, the forerunner of Tohoku University.
Lu Xun went on to become one of the most important and influential figures of modern Chinese literature. His short story titled "Professor Fujino" was inspired by the close working relationship he had with his teacher.
"Yesterday, to prepare myself for this award, I read 'Professor Fujino' again," said Li Guanqiao. "I realized that although Lu Xun wrote it 90 years ago, the spirit of the work is still alive. There are so many people like Professor Fujino around me here, who give me support and encouragement, and make me want to be a better researcher."
For more than a decade, the Professor Fujino Incentive Award has been seen as a reflection of strong Sino-Japanese friendship, and a celebration of the students who best embody that spirit.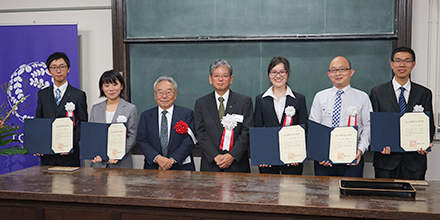 Contact:
Student Exchange Division
Email: sed2@grp.tohoku.ac.jp