Hundreds of students from around the world are in Sendai this July for Tohoku University's popular summer programs. Among them is the language and culture-themed Tohoku University Japanese Program (TUJP) which runs twice every summer to accommodate the growing number of applicants.
TUJP students attend two weeks of intensive language classes, as well as seminars about Japanese history, law and economy. They also learn traditional Japanese arts such as calligraphy, origami, flower arrangement, drumming and karate.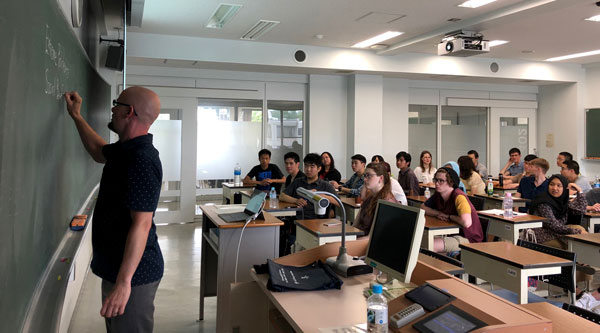 "The purpose of TUJP is to offer students from our partner universities the chance to experience life at Tohoku University and get to know Sendai and the people who live here," said Kaori Shimasaki, organizer of TUJP, and a senior assistant professor at the Global Learning Center. "We hope they enjoy the experience and consider coming back and joining us as full-time students."
The first of the 2018 TUJP courses had 27 students from nine countries taking part. According to Shimasaki, who has led the programme for the past four years, the group bonded almost immediately. "They had really good chemistry from the start and seemed to genuinely enjoy hanging out together. I think they learnt as much about each other's countries as they did about Japan."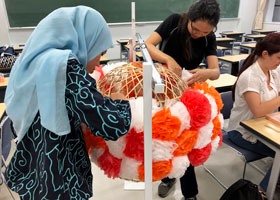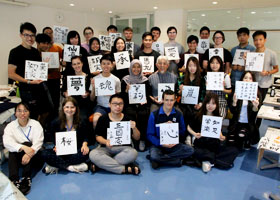 "Just being with these guys and talking, I feel like I'm learning something new every day because I hear perspectives from so many different countries," said Nathan Fong from the University of Waterloo. "We're all interested in Japan - that's why we're here - but our interests come from different influences, and that's really cool."
"I first became interested in Japan because Japanese food is absolutely delicious," said Nadhira Ghasani, an engineering student from Indonesia's Institut Teknologi Bandung. "But I also wanted to visit Tohoku University because I've been thinking about coming here for my Masters."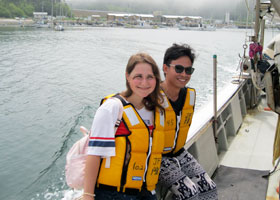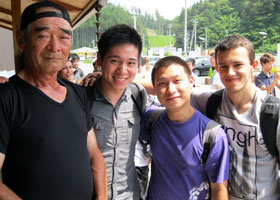 In addition to the lectures and workshops, there were many opportunities for the students to apply what they learnt to situations outside the classrooms, such as speaking Japanese during a visit to a local elementary school and ordering food in restaurants.
The group also enjoyed a homestay experience in Minamisanriku, where they interacted with residents and learnt about the recovery efforts following the devastation of the 2011 tsunami.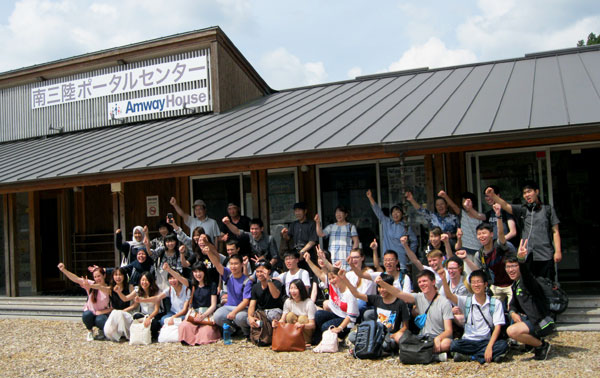 Throughout the fortnight, the TUJP participants worked on group projects alongside Tohoku University students, in which they explored the unique nature of Japanese small business culture.
Each group visited a local company, observed the work and spoke to the owner and staff. The students then made a presentation on the final day of the program, introducing the company they visited and suggesting ways in which companies in Japan and in their home countries can learn from each other.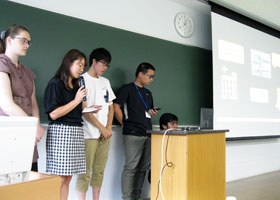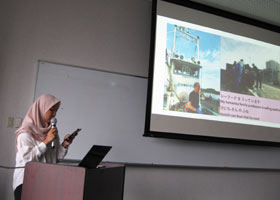 These group projects are a popular and integral component of TUJP, as they encourage the students to really get to know the city, engage with Japanese people and contribute ideas towards improving local communities.
"My team and I had so much fun. We went to karaoke places and restaurants to do interviews with people, and everyone was so kind and friendly," said Evelyn Shu Lingxiao, from the University of Melbourne. "This has really been the happiest and most unforgettable two weeks of my life."
Olesia Nikitina, from Lomonosov Moscow State University, echoed that sentiment. "I waited three years to be selected to come on this program and it is so worth the wait because Japan is far more than I expected," she said, adding, "I'm already thinking of how I can come back."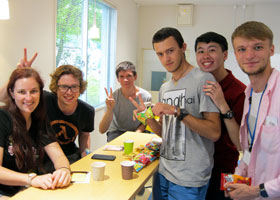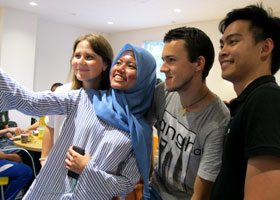 Contact:
Tohoku University Global Learning Center
Tel: +81 22 795-4818
Email: tujp

grp.tohoku.ac.jp (for TUJP)
Email: studyab

grp.tohoku.ac.jp (for all other exchange programmes)