On November 8, Team HAKUTO reached another major milestone on its 10-year Google Lunar XPRIZE quest. An international panel of judges visited HAKUTO's Tokyo headquarters for a detailed review of its mission plan and came away impressed with the progress made so far.
Both sides also agreed on the parameters by which the mission would ultimately be evaluated.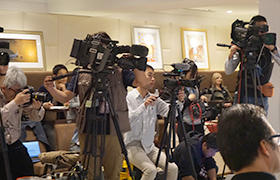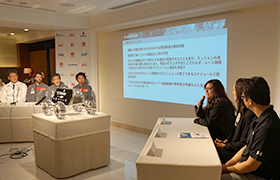 Under the rules of the Google Lunar XPRIZE challenge, which ends in March 2018, teams have to land a rover on the moon, travel at least 500 meters and transmit high definition images back to Earth.
"We will use wheel odometry - counting the number of rotations of the wheel - to calculate the distance travelled," said Professor Kazuya Yoshida of Tohoku University's Department of Aerospace Engineering, who is one of the supervisors of Team HAKUTO. "Wheel odometry is not 100% accurate, especially since the surface of the Moon is sandy with very loose granules that cause slippage, but we expect the error margin to be quite small."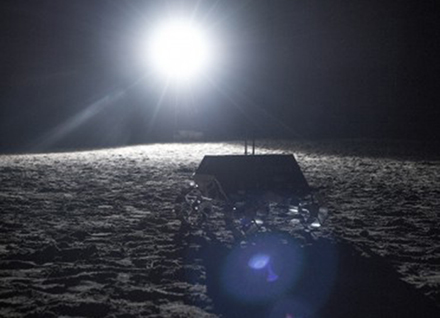 ©HAKUTO
HAKUTO, which comprises members of ispace, researchers at Tohoku University and experts from various fields contributing pro-bono, is one of only five teams left in the global competition.
Team HAKUTO signed a rideshare agreement with fellow XPRIZE competitor Team Indus in 2016 and will travel to the Moon on the Indian Space Research Organisation (ISRO)'s Polar Satellite Launch Vehicle (PSLV). As the countdown continues towards the launch - now scheduled for 2018 - attention is on HAKUTO's rover SORATO, and the extraordinary technology that began in the laboratories of Tohoku University some two decades ago.
"During this mission review, Team HAKUTO shared a lot of the details about their engineering design and the analyses that went into the development of their rover," said Derek Lang, one of the Google Lunar XPRIZE judges and a 30-year aerospace veteran. "Their testing and their operations demonstrated that they're using very good engineering practices, which should result in a very successful mission."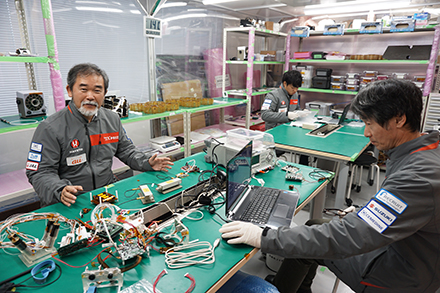 SORATO's design features the miniaturization of complex machines and the tight integration of electronics.
The rovers' body is made of resilient, lightweight Carbon Fiber Reinforced Plastic (CFRP) materials. And the wheels have thermal insulation to prevent the extreme temperatures of the lunar surface - more than 100℃ at noon, below -150℃ at night - from reaching the rover's body.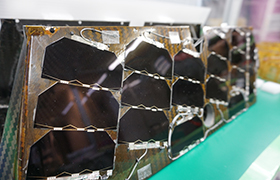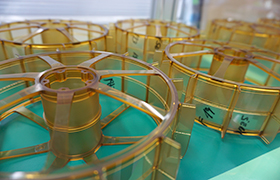 The Moon's extreme temperatures is both a blessing and a curse. SORATO is equipped with a battery, but intends to rely heavily on solar power while on the Moon. "The most important factor for us is sun angle, which will determine the temperature and power generation opportunities," said Yoshida. "So arriving on the Moon just when morning is breaking is critical."
Four cameras capable of covering 360 degrees will be used to capture high definition images, which will be transmitted to Earth with data-compression technology. The cameras also allow the human pilot to remotely drive the rover with near real time vision of its path. Additionally, the rover has an infrared Time of Flight 3D Camera and on-board AI to detect and avoid mission endangering hazards.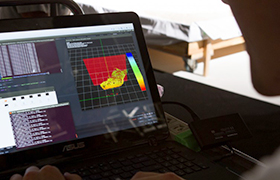 ©HAKUTO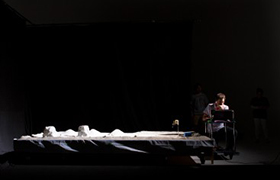 ©HAKUTO
Despite all this technology on its back, SORATO weighs in at a very compact 4 kilograms.
"With space, every kilogram is very expensive and you have to try to be small and not use too much power," said Chanda Gonzales-Mowrer, Prize Lead for the Google Lunar XPRIZE. "I've been impressed with how Team HAKUTO has taken a lot of the technologies available now on Earth and adapted them for use in space in a very efficient package. And they've been able to produce this cheaply, compared to what governments are doing."
Fellow judge Elisabeth Morse is a senior spaceflight systems engineer who consults for agencies like NASA and the FAA. "In my career, I've worked in traditional space programmes where we don't take risks, and we only fly things that we know will fly. As a result, things tend to be expensive, heavy, power hungry," she said. "So the whole Google Lunar XPRIZE in general, and Team HAKUTO in particular, have been impressive because they're pushing the state of the art in that field, and that's really going to benefit the space industry going forward."
Team HAKUTO will complete development on SORATO by December 19, after which it will be shipped to India for final integration before the launch.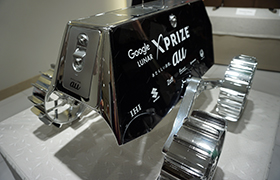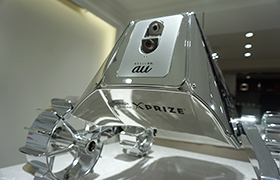 Contact:
Professor Kazuya Yoshida
Department of Aerospace Engineering
Tohoku University Graduate School of Engineering
Email: yoshida@astro.mech.tohoku.ac.jp