A feature of summer at Tohoku University is the popular short programmes that regularly attract hundreds of students from partner universities around the world.
For the past eight years, the Tohoku University Engineering Summer Program (TESP) has featured a fortnight of lectures with some of the biggest names in robotics research. More recently though, TESP has expanded to include two other graduate-level courses - Electrical and Electronic Engineering (EEE) and Structural Materials Engineering (SMEC). Each course comprises lectures, hands-on laboratory work, culture workshops and a field trip.
This year, TESP welcomed some 70 international students from 23 institutions.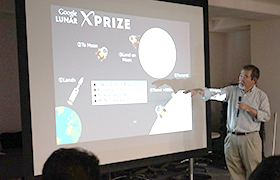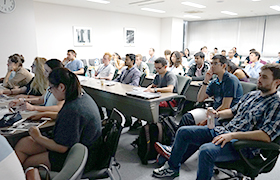 The Robotics course featured its usual array of lectures and workshops on topics such as field, rescue and space robotics, molecular robotics and haptic interface. It's a curriculum designed to give participants a wide sampling of different applications.
"Japan is a leader in robotics technology so I wanted to come see what the experts are doing and learn from them," said Omar Al-Buraiki, a PhD student from the University of Ottawa. "Every day different professors talked to us about their research and let us ask them questions. I've really learnt a lot."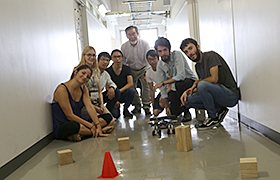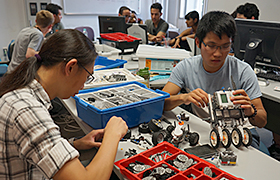 Hands-on activities gave students the chance to apply the ideas taught in the lectures. TESP participants worked in groups that included local Japanese students in the labs.
"Everyone's really professional," said Hua Jiang from Georgia Institute of Technology.
"We all have similar interests but sometimes our ideas are different because we come from different backgrounds. The discussions were really interesting."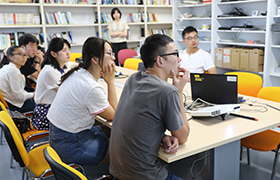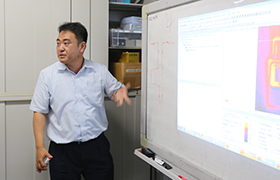 The Electrical and Electronic Engineering course focused on microphotonics, wireless information technology and electromagnetic engineering. Participants designed and made a prototype of a smart wireless power transfer system to generate solar electric power that could be transferred wirelessly to electric devices such as LED lamps.
"The students made a high-gain antenna array using the Yagi-Uda antenna which is a very famous antenna invented at Tohoku University in the 1920s. They did very well and operated the system successfully," said Professor Qiang Chen, organizer of the EEE course. "Our hope is that some of these students will be inspired to further study wireless communications, microwave and antenna technologies, and one day make research collaborations with our departments here."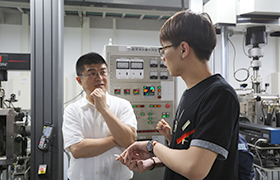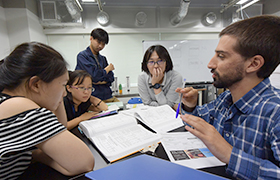 The debut of the Structural Materials Engineering course this year featured topics such as the phase stability and transformation, microstructure and mechanical properties of metals and alloys. "I wanted our course to address how structural materials are designed, developed, produced and manufactured," said SMEC organiser Professor Kyosuke Yoshimi. "Specifically, who decides the materials' compositions? What roles do the elements play in the structural components? How were the structural components given their shape?"
To help students understand the process through a bit of fun, Yoshimi divided them into four groups and had a contest. "Each group designed a ternary alloy based on ternary phase diagrams and arc-melted it in our lab. The materials were evaluated on their mechanical properties such as density, hardness, strength and ductility, and also on price and the merit of their microstructure. The results were really good and interesting!"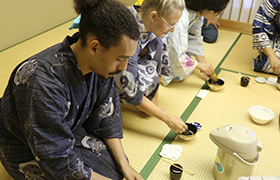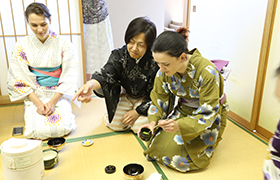 Despite the tight class schedule, participants took a break to enjoy a day of culture and sightseeing at Matsushima, considered to be one of the most scenic views in Japan.
"The lectures were great but I loved the field trip," said Cheyenne Powell from Cranfield University. "Japanese culture is so different from what I'm used to. Even the food is a new experience for me. I'm addicted to those rice balls with the seaweed!"
"The diversity in this programme has been great. Not just the lectures but the people too," said Yacine Bougrinat from Polytechnique Montreal. "I now not only have Japanese friends, I also have friends from countries that I've never been to and knew very little about. I've learnt a lot about engineering, but more than that, I've learnt about people from all over the world."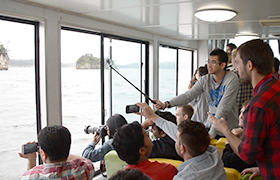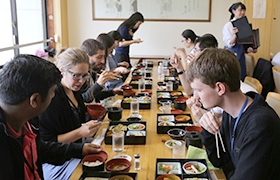 When TESP began eight years ago, the plan was for each of the five divisions within the School of Engineering to have its own summer course.
"Because the robotics programme was so popular, we stayed with it for a while," said Professor Kazuya Yoshida, who's been an organiser of TESP since its inception. "I'm really glad that EEE and SMEC have now joined us. It's been such a successful summer, I hope we'll have all five divisions represented soon."

Contact:
Tohoku University Engineering Summer Program
Division of International Education & Exchange, School of Engineering
Tel: +81 22-795-7996
Email: tesp@grp.tohoku.ac.jp