Tohoku University and Toyota Motor Corporation have signed a cooperative agreement to promote green initiatives such as the use of hydrogen as a clean energy source, and disaster-resistant urban development in Fukushima Prefecture.
The agreement was signed by Tohoku University President Hideo Ohno and Toyota Motor Corporation Executive Vice President Kenta Kon, at a ceremony on Aobayama campus on October 14.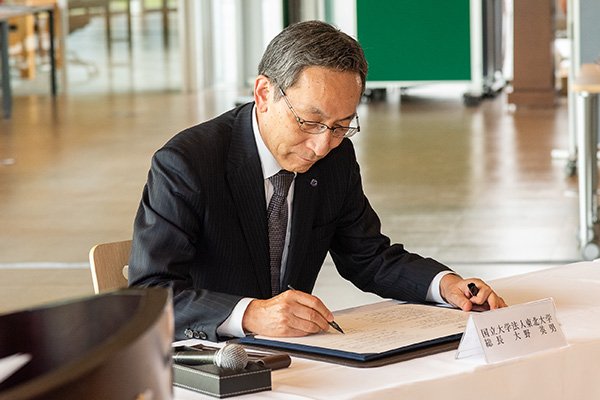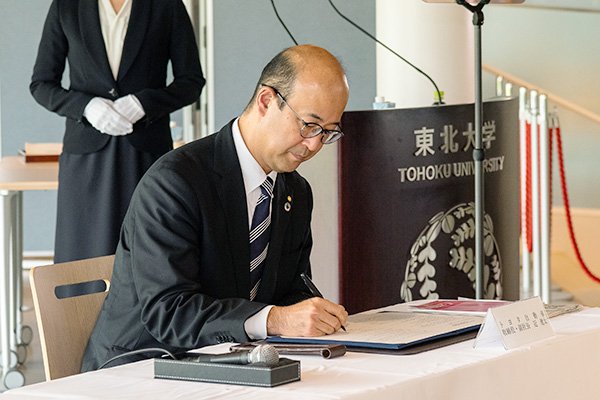 Tohoku University and Toyota have long been involved in reconstruction efforts in Fukushima, following the nuclear power plant accident there in 2011.
In his speech, Kon spoke of their shared mission. "When I met with President Ohno, he said 'Fukushima has become famous worldwide. However, that fame comes with a negative nuance, and our mission is to turn that image into a positive one.' I agree wholeheartedly with those words."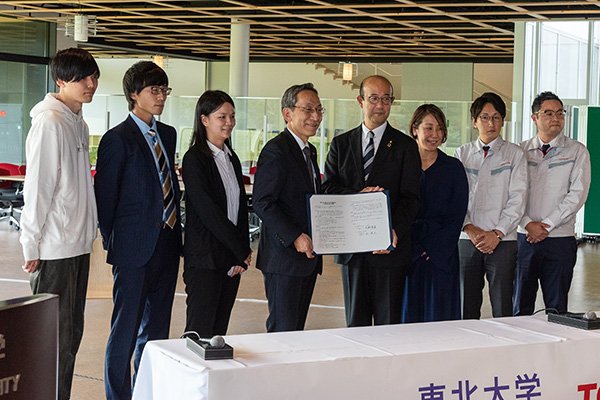 Under the agreement, Tohoku University and Toyota will engage in joint research on hydrogen fuel cells, and develop green technologies with the aim of eventually realizing carbon neutrality.
Other goals include the creation of disaster-resistant urban development; the building of new communities using structures that promote history and culture; and technological innovation to help raise the value of local agricultural products such as peaches and pears.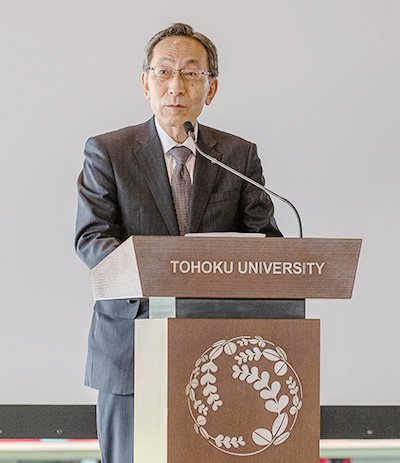 Tohoku University is also considering expanding its Science Park concept to Fukushima's Hamadori.
"We want to deliver a message about how communities can be positively changed, what we can do about carbon neutrality, and how we can create a resilient society," said Ohno. "By working together in Fukushima, we hope to show that through solving social issues regionally, we can make a difference nationally and eventually contribute to solving these issues globally. That, I believe, is what our future course should be."

Wrapping up the main event, Kon, who is an alumnus of Tohoku University's Faculty of Economics, shared some leadership advice with the current students in the audience.
"It is easy to say that we should always hold fast to our beliefs, even if they go against the tide. But to actually do that can be very lonely and difficult," he said. "Toyota is a company created through the belief of its founder Kiichiro Toyoda and his colleagues that they could revitalize the automobile industry in Japan. I hope that when you all become leaders someday, you too will maintain your beliefs, and put them into actions that will benefit others."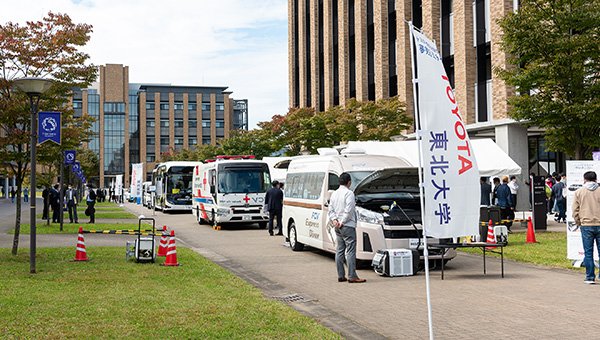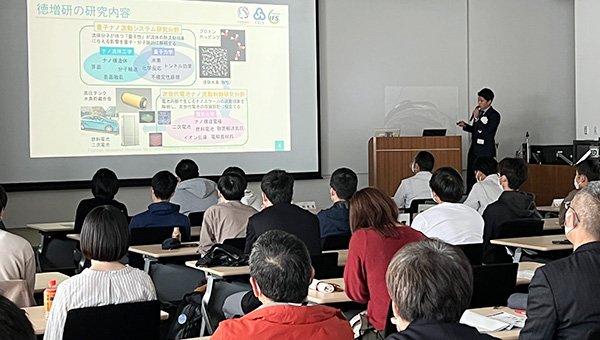 In conjunction with the signing ceremony, the International Research Institute of Disaster Science (IRIDeS) hosted a series of lectures on fuel cells, water electrolysis and hydrogen storage; as well as a discussion on disaster preparedness for Toyota employees and Tohoku University researchers.
There was also an exhibition of Toyota's environmentally friendly fuel cell vehicles (FCV), including light trucks, forklifts and MIRAI, a hydrogen-powered passenger car which emits only water when it runs.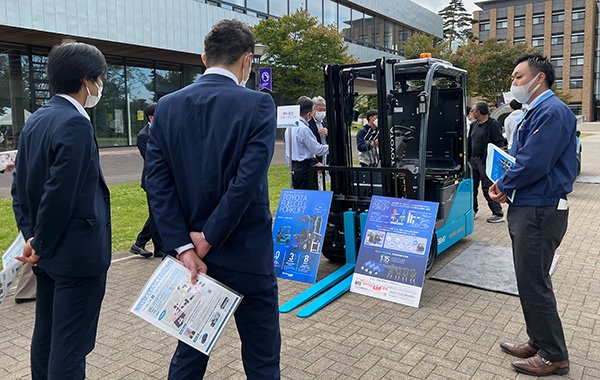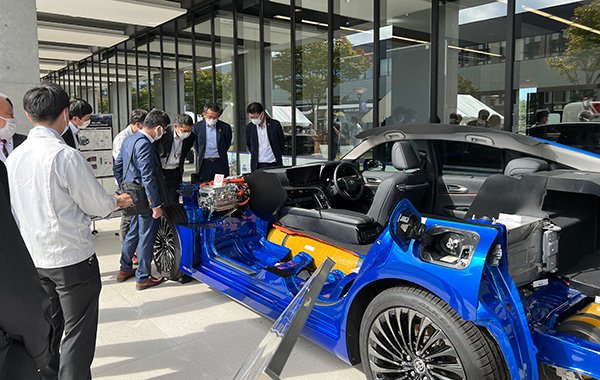 Contact:
Green Goals Initiative Section
Special Business Strategy Office
Tohoku University Industry-University Cooperation Department
Email: skk-green

grp.tohoku.ac.jp