Tohoku University held its Spring 2023 Entrance Ceremony today at Xebio Arena Sendai. The ceremony was divided into two parts - one for the 2,481 first-year undergraduates, and one for the 2,470 new graduate students.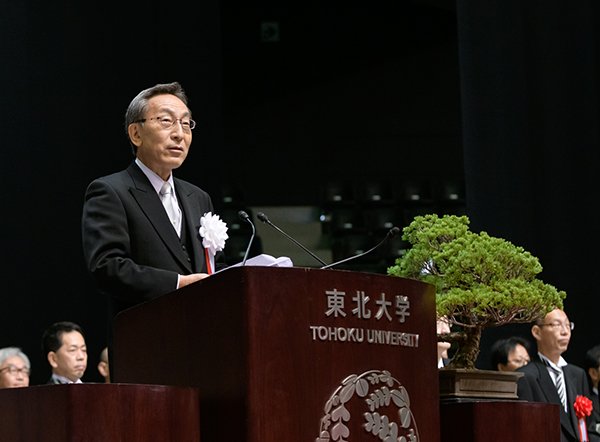 In his speech to both groups, President Hideo Ohno introduced the university's founding principles of "open doors," "research first," and "practice-oriented research and education." He highlighted over a century of academic and research achievements, and expressed hope that the new students will also embrace diversity and continue the university's legacy of innovation and discovery.
"I encourage all of you to actively pursue the things that interest you, and to not be afraid to take on various challenges, such as studying abroad, mastering a new skill or even planning a startup," he said. "The power to be a pioneer in an uncertain future will come from these challenges. And Tohoku University will take on these challenges with you."
He also had a few words in English for the international students in the audience. "I'm confident that your time at Tohoku University will be intellectually stimulating and emotionally fulfilling. You will meet people from many backgrounds and diverse cultures, people with other opinions and different perspectives," he said. "There might also be times when you doubt yourself. But remember that all of us, our faculty members, staff and students are here to help and support you."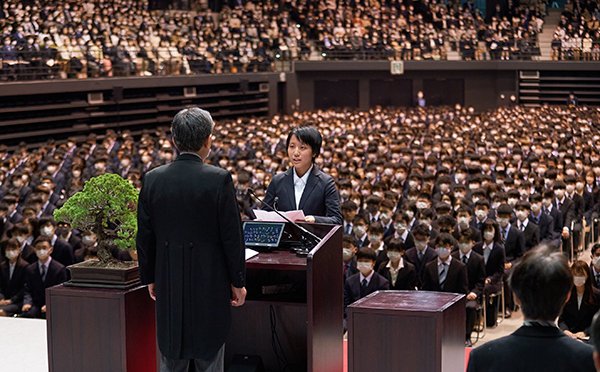 Yuki Kogue, from the School of Dentistry, gave a speech on behalf of the new undergraduate class. "Today, I finally stand at the entrance of Tohoku University," she said. "I'm a little anxious about starting a new life in the place I have always dreamed of, but I am also filled with great expectations."
She spoke of her interest in dentistry and research, and acknowledged the importance of international cooperation in addressing wider social issues such as poverty, economic disparity and global warming. "I believe that we can find solutions to these problems by working together across borders and across disciplines. I hope to be a leader in creating such an environment."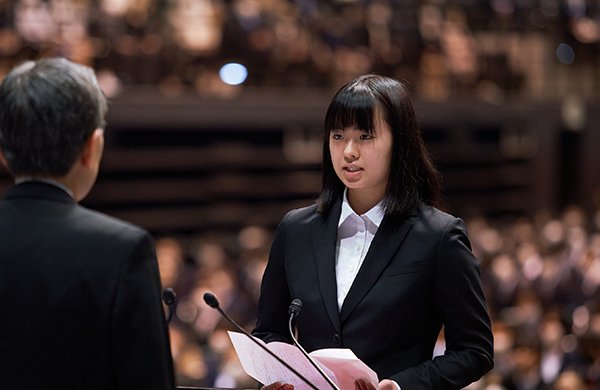 Tsumugi Shoji, from the Graduate School of Life Sciences, spoke on behalf of the new graduate students, and also shared her passion for research. "When we are able to accomplish new ideas and discoveries by our own hands, through the accumulation of small steps, we will be able to see the world in a new light. I believe that we will gain the strength to cope with any unprecedented circumstances that might come our way."
She ended her speech by thanking "all the people who have made it possible for us to pursue our research," and added that "we will make every effort to ensure that our time at Tohoku University is meaningful."
In line with the university's gradual relaxing of COVID-19 infection prevention measures, masks were optional and students were allowed to bring a family member to the ceremony for the first time since 2019. There was also a live stream of the event for those unable to attend in person.
After the ceremony, the students gathered with friends and family for pictures.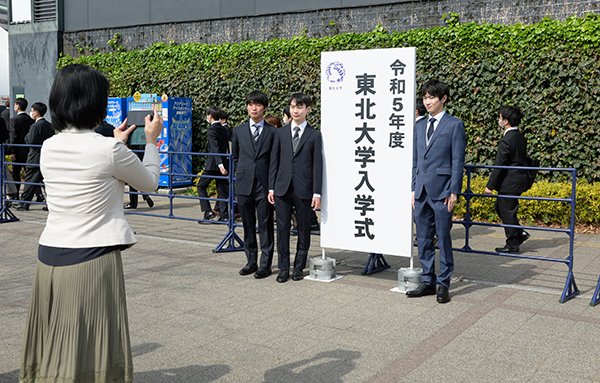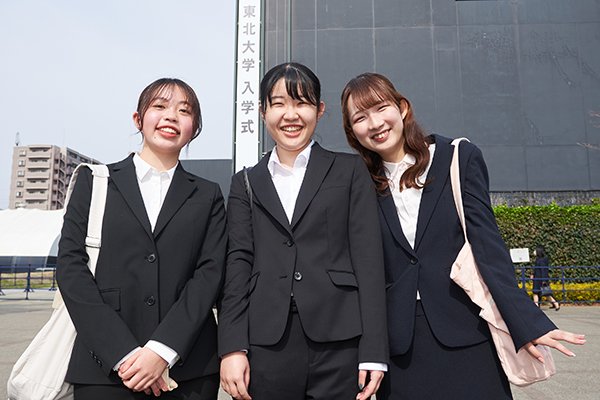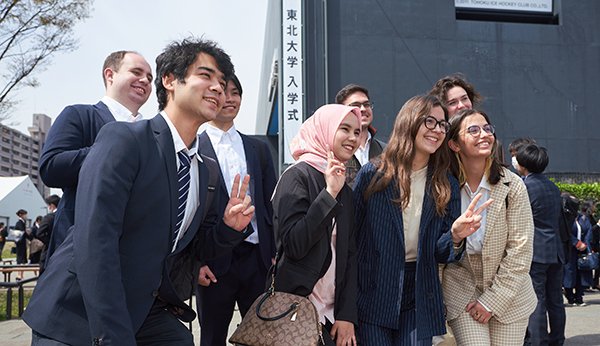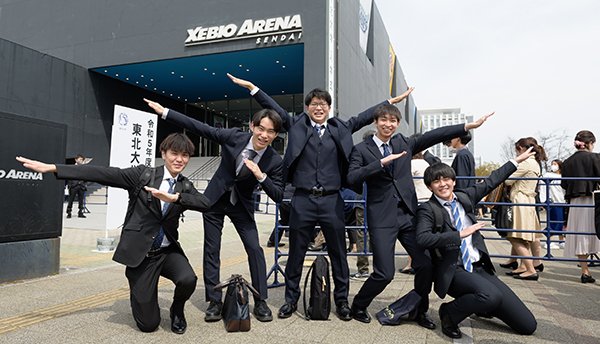 A new set of interactive "Augmented Reality" (AR) photo frames - with spring and special Tohoku University elements - was also launched to mark the occasion. All students can access the AR feature with their mobile phones via this link.
Contact:
Tohoku University Education and Student Support Center
Academic Affairs Division
Tel: 022-795-3819