The Tohoku University Fund held its annual donor appreciation event on December 9 at the International Research Institute of Disaster Science on Aobayama campus. While this event is normally one of the larger gatherings on the university's social, alumni and outreach calendar, it was held partially online this year due to the on-going COVID-19 pandemic.
In-person attendees included top tier donors and special award recipients, while many other special guests and supporters of the Tohoku University Fund participated through a live stream.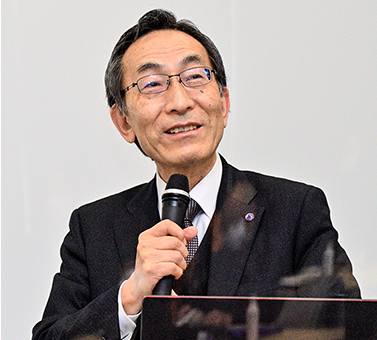 In his welcome speech, President Ohno thanked the donors for their continued support, and highlighted the work of the Tohoku University Fund, especially in helping students who have been adversely affected by the pandemic.
"Last year, the spread of the new coronavirus infection had a major impact on teaching, research and daily life at the university," he said. "We put in place remote work and online classes to ensure the safety of all our members, but many students experienced financial difficulties due to the economic downturn and their inability to do part-time work. Travel restrictions also meant that some students could not go home. Your warm support and messages have been a great help to them, not just financially but also emotionally."

President Ohno then handed out special awards to 13 recipients who had donated more than a million yen individually, or more than 10 million yen through their company, to the Fund last year.
Executive Vice President for Co-creation Strategy, Disaster Reconstruction and Regeneration, Keiichi Sasaki, who is also chairman of the Tohoku University Fund Management Committee, gave an update on the Fund's activities and reported on the income and expenditures for the last fiscal year.
That was followed by a report on student welfare and academic activities by Executive Vice President for Education and Student Support Hirotsugu Takizawa.

Before the break, participants were introduced to one of the Tohoku University Fund's current programmes, the Tomoni crowdfunding challenge.
In the second half of the event, participants were treated to two lectures. The first was by President Ohno, who spoke of the recovery efforts and the lessons learnt from the 2011 Great East Japan Earthquake. He gave an update on the university's Green Goals Initiative, the status of the Science Park and the next-generation synchrotron radiation facility that are both being built at the new extension of Aobayama Campus.
He also mentioned the Super City concept, which he hopes can be implemented in the next few years in cooperation with local government. If implemented, it would provide communities in the region with innovative and beneficial technology developed by Tohoku University.

The final lecture of the day was by IRIDeS Associate Professor Yuichi Ebina, who spoke about how new developments in disaster science can be guided by history. As examples, he drew parallels between recent events and the Keicho Tsunami of 1611 and the epidemic that began in Iwate's Kesen-gun in 1773.
For more information about the Tohoku University Fund, and how to donate, please visit: http://www.bureau.tohoku.ac.jp/kikin/english/index.html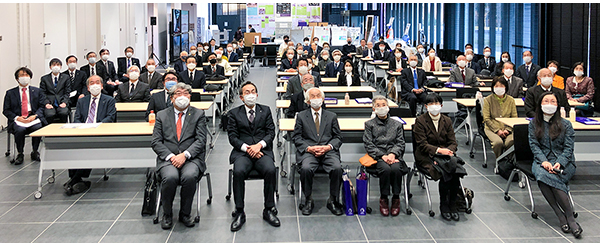 Link:
Contact:
Tohoku University Alumni and Outreach Office
Tel: +81 22-217-6290
Email: kikin

grp.tohoku.ac.jp