Sixteen students have been awarded the Tohoku University Global Leader (TGL) certificate for Winter 2021/22. The ceremony was held on March 24 at Katahira campus.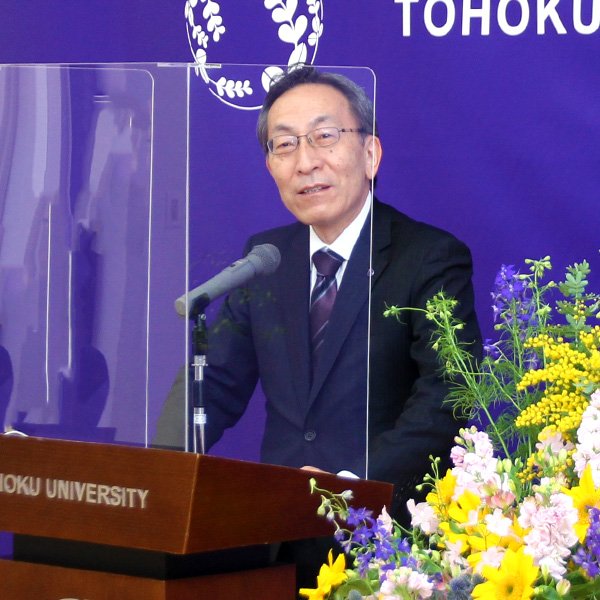 In his speech, President Ohno congratulated the students on successfully completing the programme despite the COVID-19 pandemic affecting international exchange and travel. "Your determination to keep moving forward and improving yourselves, makes you all deserving of this Global Leader accreditation," he said. "In an era of rapid changes in society and the global economy, we need people like you who can tackle challenges with broad and different perspectives, as well as flexible thinking skills."
Two students gave speeches on behalf of the award recipients, sharing what they'd learnt on the programme.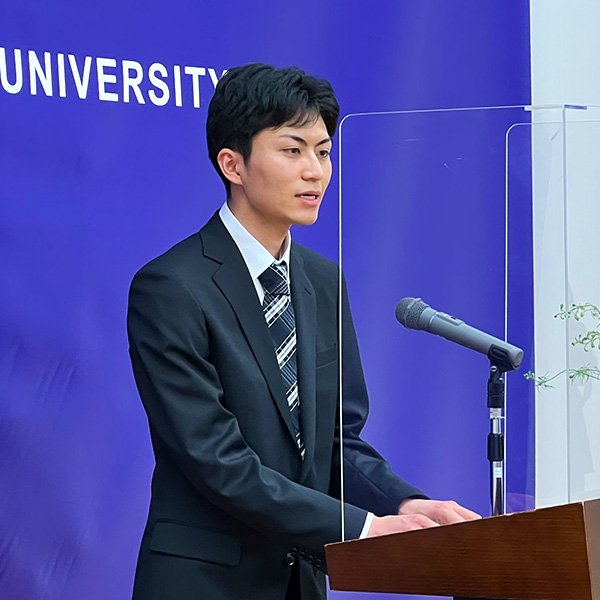 Sho Kitahira, a fourth-year student from the Faculty of Law, spoke of growing up in rural Hokkaido, and how his time at university helped to shape the person he has become. "I used to be very inward-looking, but the TGL programme really opened my eyes. It gave me a new perspective on life and the opportunity to connect with the world," he said. "I believe that global leaders are those who have a good balance between local and global perspectives and are able to move freely between the two domains."
Of the future, he said his goal is to be a social lawyer who connects people who need help with those who are able to provide it. "They connect the voices in the field to the policy makers; and they connect solutions to local problems, with solutions to global problems. Social lawyers are key people in the local safety net as well as in global development. And as one, I hope to contribute to sustainable development that leaves nobody behind."

Chihiro Kawano, a fifth-year medical student, gave a speech that was entirely in English. She said that her goal is to one day work in the United States in the field of family medicine or pediatrics. "It took me a lot of time to finally find what I really want to achieve," she said. "I think I got there thanks to all the experiences I had as a Tohoku University student. And there is no doubt that the TGL programme is a major part of that."
She added candidly that "there are still many things I am worried about in my future. But I know for sure that I never want to give up without trying. My time in the TGL programme proved that there is always something you can learn when you try."

The Tohoku University Global Leader (TGL) programme was started in 2013 as part of the university's efforts to promote an international curriculum and co-learning among students of different cultures.
Japanese students receive the Global Leader certification after collecting points from classes and activities that encourage a global mindset. These include participating in study abroad or international programmes, doing volunteer work and passing foreign language proficiency tests.
This semester's group brings the total number of students who have been awarded the certificate to 170.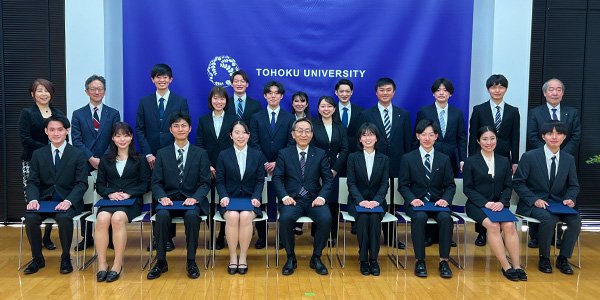 Contact:
Student Exchange Division
Tel: +81-22-795-7820
Email: sab_query

grp.tohoku.ac.jp