Tohoku University hosted a 10-member delegation from the University of Melbourne on June 29, the first official visit from a foreign partner institution since the COVID-19 pandemic put a pause on international travel two years ago.
The delegation met with President Hideo Ohno and members of Tohoku University's executive committee, and both sides shared updates on their recent activities.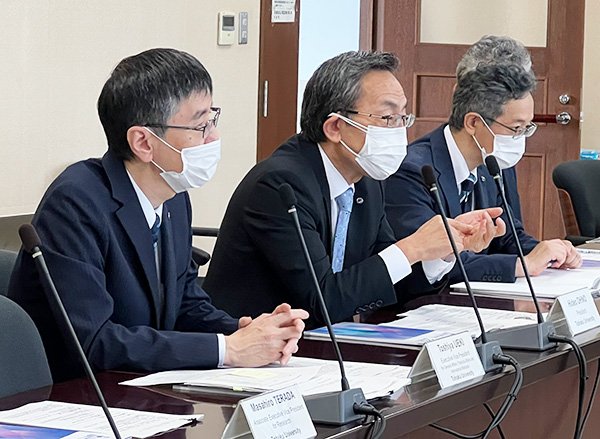 President Ohno spoke of the main research areas that Tohoku University is renowned for - materials science, spintronics, next-generation medicine and disaster science. He also introduced the Green Goals Initiative, which aims to build a resilient future by leveraging the university's research capabilities, international network and experience in disaster mitigation.
University of Melbourne's Vice-chancellor Duncan Maskell then spoke of the Australian Institute for Infectious Disease and the recently-launched Melbourne Climate Futures, which he likened to the Green Goals Initiative.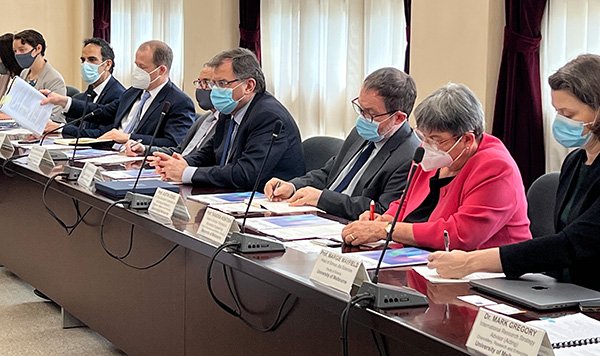 He noted that the strategic goals described by President Ohno, especially the multidisciplinary approach to tackling global challenges, "fit very well with many of the things we've also been doing at the University of Melbourne."
Faculty heads from both universities (representing science, engineering, chemical and biomedical engineering and information technology) then gave overviews of their departments, focusing on "interdisciplinarity and innovation," and highlighted potential avenues for future cooperation.
Both sides agreed to further strengthen research collaboration and the exchange of young researchers between the two universities.

The Melbourne delegation then took a tour of various facilities and institutes, starting with the next-generation synchrotron radiation facility - nicknamed NanoTerasu - that is being built at the new extension of Aobayama campus.
Professor Masaki Takata of the International Centre for Synchrotron Radiation Innovation Smart (SRIS) walked the group through the concept and expectations of NanoTerasu as a major research hub, once it is operational next year and open for use in 2024.

At the Advanced Institute for Materials Research, the delegation heard a presentation on predictive materials science through AIMR's use of mathematics, and discussed industry-academia collaboration.
In parallel, the Institute of Multidisciplinary Research for Advanced Materials (IMRAM) hosted a hybrid workshop with the University of Melbourne's School of Chemical Engineering. And there were exchanges between researchers in the fields of life sciences and transport engineering.

The delegation wrapped up their visit with stops at the Aobayama Garage - a co-creation space for entrepreneurs and stakeholders that's part of Tohoku University's entrepreneurship development project - and the International Research Institute for Disaster Science (IRIDeS).
Tohoku University and the University of Melbourne signed a Strategic Partnership Agreement in 2016. Since then, they have engaged in a growing number of collaborations and exchanges, and have co-hosted "Tohoku-Melbourne Day" three times.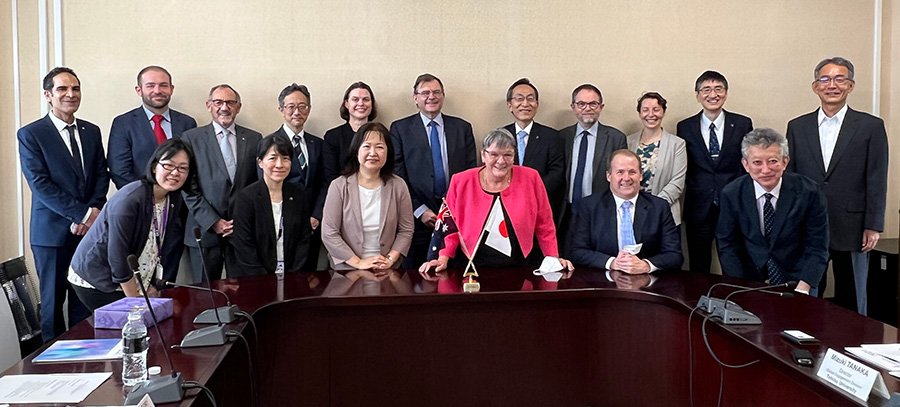 Contact:
Tohoku University Global Engagement Division
Tel: +81 22 217-5578
Email: kokusai-k

grp.tohoku.ac.jp