Summer marks the much anticipated return of the Tohoku University Japanese Program (TUJP) where students from partner universities spend a fortnight in Sendai attending intensive language classes and seminars about Japanese history, law and economy.
There are also hands-on workshops on traditional arts and culture.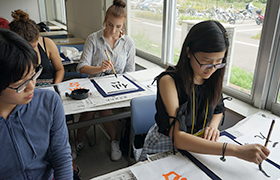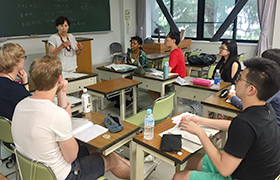 "For me, it was especially interesting to see the differences between Russia and Japan," said Artem Elistratov, who is studying international public law at Lomonosov Moscow State University. "We had a Japanese law class the other day and I was able to ask many questions. It was really great."
"Over the past two weeks, I went into every class not knowing what to expect, and ended up learning something that I never knew before," said Hope MacLean, a Liberal Arts student from the University of North Carolina, Charlotte.
Away from the classroom, TUJP encourages interaction with Japanese students on campus and members of the local community through outreach activities. For participants of the programme's first session in July, those activities included visits to an elementary school, and the hot springs at Akiu.
"For Russian people it's very unusual to come to Japan and make friends with Japanese people. It's only been two weeks but I have had so many new experiences," said Elistratov.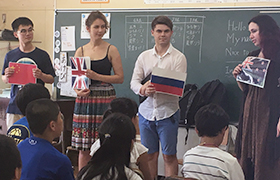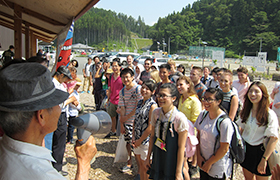 There was also a weekend homestay at Minami Sanriku, a coastal town devastated by the 2011 earthquake and tsunami. The students toured the area and spent time with residents to learn more about recovery efforts there. "My favourite part has been speaking to people in Japanese," said MacLean. "I get to practice and I've learnt so much. Everyone has been really kind and patient."
The students even got an up-close look at the region's all-important fishery industry, going out to sea with a group of local fishermen who showed them the local marine life.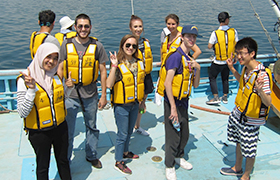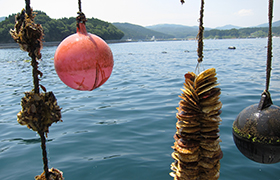 "Japan has such an amazing combination of modern and traditional culture. There's new technology all around, but there's also the traditional industries. People are very respectful of old customs," said Mariya Astashova of Novosibirsk State University. "Sendai is a city, but there's also a beautiful countryside and many trees. The balance feels very good."
A perennial hit with students every summer is the local food in Sendai, and it was no different this year. "Everything I've eaten here has been so tasty, so much more than I expected!" Astashova added.
For Theresia Wahyuni, a nutritional science student from Indonesia's Bogor Agricultural University, there was an even bigger takeaway. "I really like that so many places in Japan have nutritional and calorie information on the lunch boxes and other food products. Even in the canteen on campus, the food comes with nutritional information. I'd like to introduce this kind of awareness back in Indonesia."

In addition to bringing good ideas home, participants of the programme have the chance to contribute ideas towards improving Sendai's local communities through their group projects. This year, the students visited small businesses and were tasked with coming up with an internationalization plan to help the company grow.
Senior staff of the companies were then invited to attend the groups' presentations, held on the last day of the programme.
"The student presentations were really interesting. They pointed out things I never realized might be a problem for foreigners, things that Japanese people assume everyone would know," said Daisuke Fukuda, Senior Managing Director of ANA Holiday Inn Sendai. "I was really impressed by some of the students' observations and inspired by their suggestions."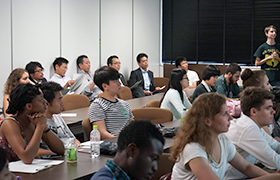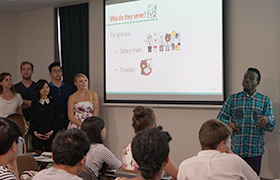 Almost every group stressed the need for more information and social media access in English, and suggested that companies could appeal to even more international customers by being aware of cultural and religious differences around the world.
"From a local company's point of view, getting international feedback and hearing ideas from people who have different perspectives, can really help us improve," said Fukuda, who is also a member of the Young Entrepreneurs Group of the Sendai Chamber of Commerce and Industry.
This year's TUJP participants came from 13 countries as diverse as Russia, Germany, Indonesia, China and the United States.
The Global Learning Center, which runs TUJP, hopes that students who come for the summer will be inspired to come back on a longer, more substantial exchange programme. To find out about some of the other programmes available, visit the link below.
Contact:
Tohoku University Global Learning Center
Tel: +81 22 795-4818
Email: tujp@grp.tohoku.ac.jp (for TUJP)
Email: studyab@grp.tohoku.ac.jp (for all other exchange programmes)