On September 25, Vice President Nguyen Trung Viet of Thuyloi University in Vietnam - with which the Graduate School of Engineering maintains a department level academic exchange agreement - visited Tohoku University.
He met with Executive Vice Presidents Toshiya Ueki and Tadahiro Hayasaka and exchanged opinions on future academic exchanges.
Thuyloi University (formerly Water Resources University) was founded in 1959 as part of the Vietnamese government's national strategy, and established itself as the leading university in Vietnam in the fields of water resources and hydropower. In recent years, it has diversified and established undergraduate departments in a wide range of fields such as economics, management and computer science.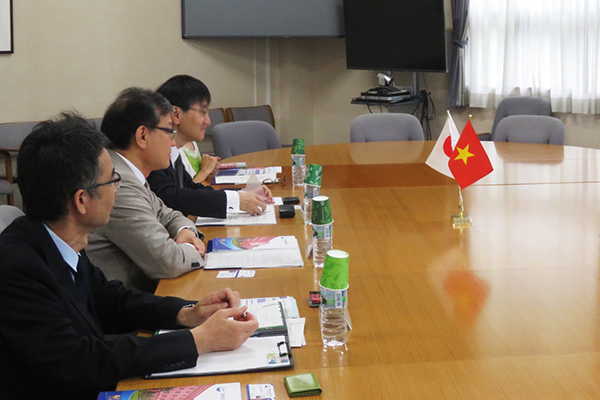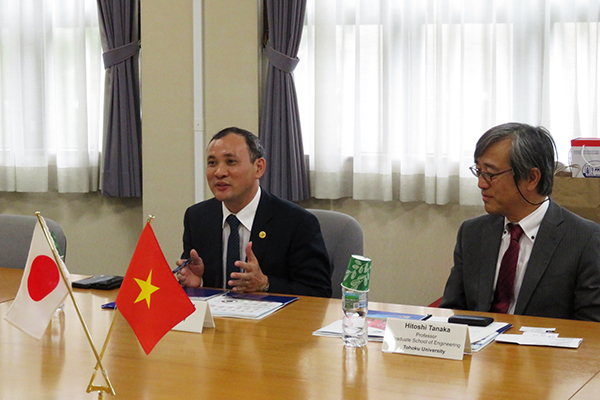 Vice President Nguyen said that he is pleased with how academic exchanges between Thuyloi University and Tohoku University have been progressing and added that he would like to see even more student exchanges between the two universities.
Vice President Nguyen was the first exchange student from Vietnam to be awarded a Ph.D. by Tohoku University's Graduate School of Engineering, and is due to be inaugurated as president of the Vietnam chapter of the Tohoku University Alumni Association.
EVP Ueki expressed his appreciation for Vice President Nguyen's willingness to take on this role. He also added that they would work together towards deepening academic exchanges - such as in the field of disaster science - in order to develop the current department level agreement into a university level agreement.
Contact:
Tohoku University International Exchange Division
Tel: +81 22 217-4844
Email: kokusai-r

grp.tohoku.ac.jp