On January 19, 2023, the University of Washington-Tohoku University: Academic Open Space (AOS), jointly operated by Tohoku University and the University of Washington, held AOS Workshop 2023 at the University of Washington.
These two universities opened the Academic Open Space (AOS) in 2017, renewing the agreement for a second phase in 2022, to facilitate joint research. In that time, the two universities have supported research collaborations in the fields of Materials Science; Aerospace and Robotics; Disaster Science; Nursing; Chemistry; and Diversity, Equity and Inclusion (DEI), and have also run student exchange programs. Since the AOS was established, several co-authored papers have been published.
At the beginning of the workshop, Hisao Inagaki, Consul General of the Consulate General of Japan in Seattle, highlighted the expanded fields of collaboration throughout the second phase, making note of the DEI initiatives and their overall importance.
Professor Anita Ramasastry, from the University of Washington's Office of Global Affairs, remarked, "From DEI to issues of resilience, AOS has made great strides in solving important issues that the world is grappling with. Discussions at AOS, which occur in a global and comparative context, provide us with much to learn from one another and help us build a stronger society."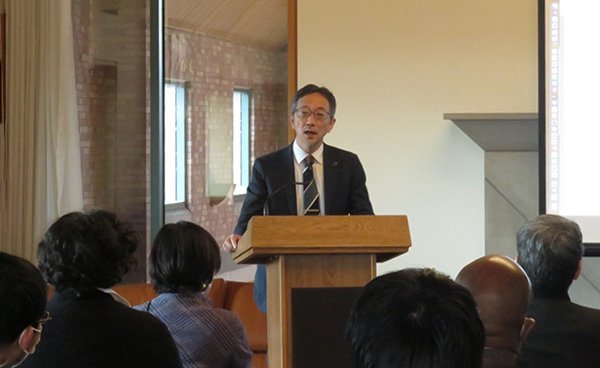 Tohoku University's representative, Vice President Masahiro Yamaguchi, talked about his pleasure at being able to hold the workshop in person again and his expectations for further collaboration. He commented, "We would like to make pioneering achievements in Japan-US university partnerships, such as in innovation and entrepreneurship education."
The workshop included three sessions on DEI, chemistry, and composite materials.
In the DEI session, Vice President Noriko Osumi summarized DEI initiatives at Tohoku University, and Senior Lecturer Sunhee Lee of the Tohoku University Center for Gender Equality Promotion provided a more detailed report. From the University of Washington, Professor Cheryl Kaiser of the Department of Psychology and Sarah Nguyen, Assistant Director of the Alene Moris Women's Center, shared their activities.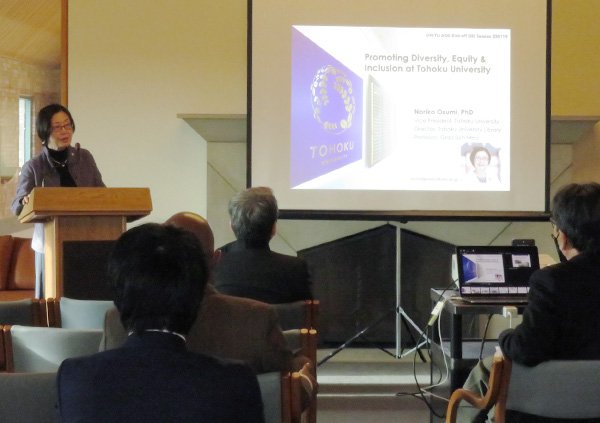 In the chemistry session, three speakers from Tohoku University introduced their research: Associate Professor Yosuke Takaoka from the Graduate School of Science, Assistant Professor Shunsuke Yamamoto from the School of Engineering, and Assistant Professor Toshiyuki Kowada from the Institute of Multidisciplinary Research for Advanced Materials. Professors Champak Chatterjee and Alshakim Nelson from the University of Washington gave a presentation on their research and discussed the possibility of holding workshops in Sendai in the future.
The final session on composite materials was facilitated by Professor Tomonaga Okabe of Tohoku University's School of Engineering. Associate Professor Marco Salviato and Assistant Professor Navid Zobeiry from the University of Washington. Assistant Professor Yoshiaki Kawagoe from Tohoku University, and Vice President and Senior Technical Fellow Nobuyuki Odagiri of Toray Composite Materials delivered presentations about their research projects, followed by active discussions among the participants.

News in Japanese
Contact:
General Affairs and Planning Department, Global Engagement Division
Email: kokusai-r

grp.tohoku.ac.jp