On November 21, 2022, Chargé d'affaires Peter Roberts and his delegation from the Australian Embassy in Tokyo visited Tohoku University. The delegation met with President Hideo Ohno and members of Tohoku University's executive committee, where both sides shared updates on their recent activities. The delegation also visited the Graduate School of Arts and Letters and the next-generation synchrotron radiation facility - nicknamed "NanoTerasu."
At the beginning of the meeting, President Ohno welcomed Chargé d'affaires Roberts, who studied for a year at Tohoku University in 1997, and remarked on what an honor it was to have him return as an alumnus.
Prior to the meeting with President Ohno, Chargé d'affaires Roberts took the opportunity to revisit his old stamping grounds: the Graduate School of Arts and Letters. Whilst there, he engaged in fruitful discussions on a variety of topics related to Australia and Japan with faculty members, students, and his former supervisor - Professor Emeritus Izumi Saita.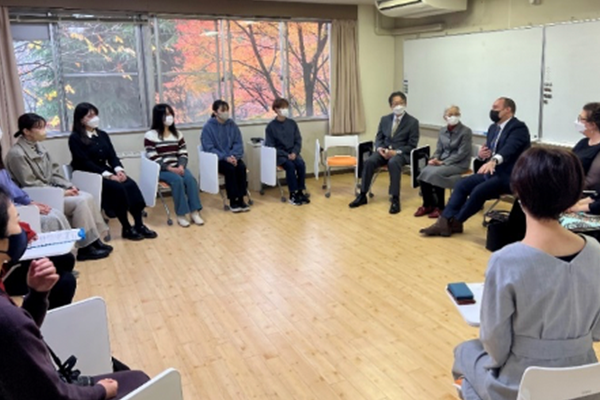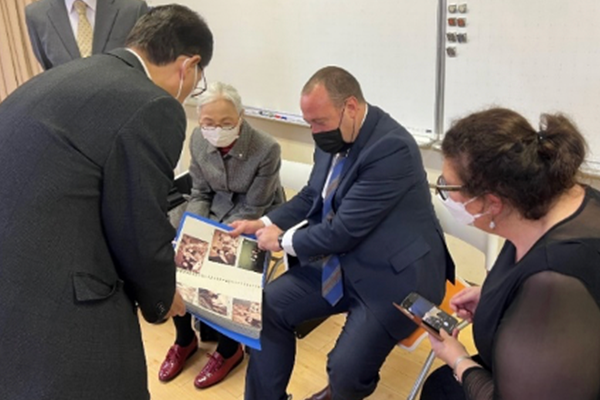 As the meeting progressed, President Ohno thanked Chargé d'affaires Roberts for engaging in disaster relief efforts in Minamisanriku after the Great East Japan Earthquake and highlighted Tohoku University's reconstruction efforts since the earthquake and the "Green Goals Initiatives," which will help build a resilient and green society for the future. Chargé d'affaires Roberts expressed his pleasure at visiting Tohoku University again after more than 20 years.
President Ohno also discussed the role that "NanoTerasu" played in helping Sendai be selected as the host city for the G7 Science and Technology Ministers' Meeting in May 2023 and remarked that Tohoku University would like to contribute to the world through sharing its expertise in science and technology.
Chargé d'affaires Roberts commented that leading Japanese corporations operate in Australia, and that he would like to see further bilateral research and educational collaboration between Australia and Japan.
After the meeting, the Photon Science Innovation guided Chargé d'affaires Roberts around "NanoTerasu."

News in Japanese
Contact:
General Affairs and Planning Department, Global Engagement Division
Email: kokusai-r

grp.tohoku.ac.jp