On April 19, British Ambassador to Japan Julia Longbottom visited Tohoku University, where she met with President Hideo Ohno and went on tours of Tohoku Medical Megabank Organization (ToMMo) and the Advanced Institute for Materials Science (AIMR).
At ToMMo, the ambassador and her delegation met Executive Director Masayuki Yamamoto. Ambassador Longbottom and Professor Yamamoto discussed previous joint initiatives with UK Biobank as well as possible collaborative opportunities with UK industries. Following the talks, Professor Yamamoto showed the ambassador around ToMMo's state-of-the-art facilities.
Ambassador Longbottom then met with President Ohno for wide-ranging discussions on collaborations between Tohoku University and the UK. Joining the ambassador was the British Council's representative, Matthew Knowles. From Tohoku University, Executive Vice President Toshiya Ueki, Executive Vice President Motoko Kotani, and Vice President Kuniaki Sato participated in the meeting. Ambassador Longbottom described the nature of Japan-UK relations as "friendly competition," and stated that the UK's leading partner in science is Japan and that the UK is eager to continue working together in a host of areas.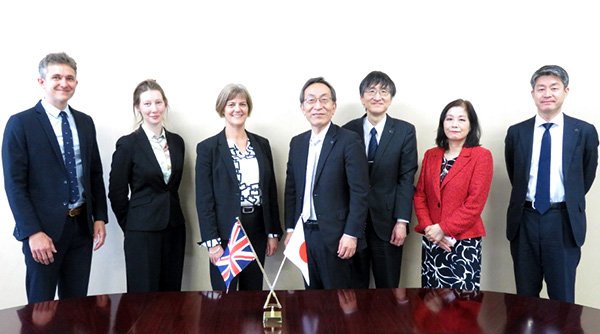 President Ohno highlighted the university's recent focus on data science and green economic initiatives. The president introduced the next-generation synchrotron radiation facility that is scheduled to begin operating next year and stressed the importance of ushering in social benefits through the Green Goals Initiative established last year. Ambassador Longbottom expects greater collaboration between Tohoku University and the UK in these areas.
At AIMR, Deputy Director Hiroshi Suito and Director of the Research Support Division Nobuyuki Nishiyama showcased the institute's history and its current international collaborations. Ambassador Longbottom and her delegation were interested in AIMR's links with government, industry and students, with Professor Nishiyama explaining that the institute works with major companies to provide internships to students from Japan and abroad. The ambassador's visit concluded with a tour of AIMR's laboratories and its common equipment room.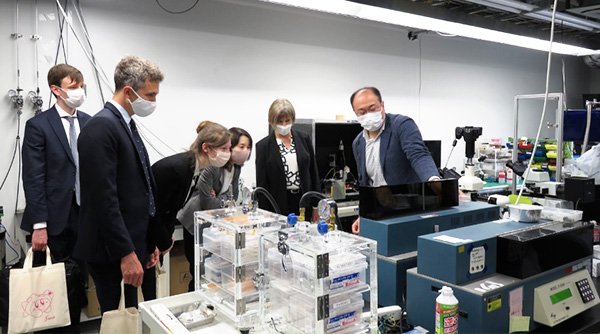 News in Japanese
Contact:
Tohoku University Global Engagement Division
Tel: +81 22 217-5578
Email:kokusai-k

grp.tohoku.ac.jp